THE ABBI AGENCY NAMED AGENCY OF THE YEAR IN AAF'S BEST OF THE WEST AWARDS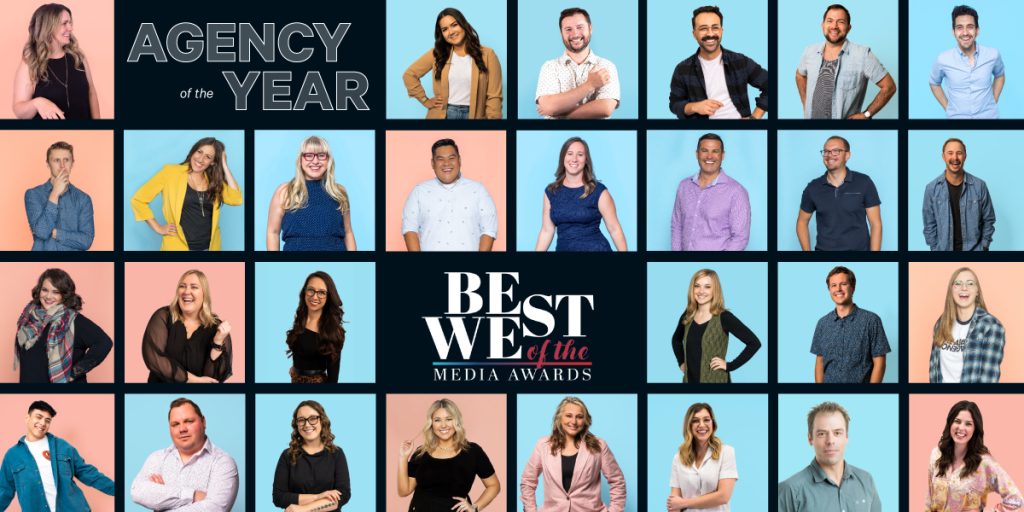 So, we may have left out one thing when we wrapped up last year. What can we say—we wanted to start this year out with a bang! The Abbi Agency is pleased to announce that we've been named Advertising Agency of the Year ($10-50M) by the American Advertising Federation's (AAF) Western Region Best of the West Media Awards, a competition highlighting the best media companies throughout the entire western United States.
It's amazing that an award small enough to be held in one hand can represent so much (and this isn't us angling for a bigger trophy—being a marketing agency, we obviously strive to be concise and deliver messages in bite-sized pieces!). Before our time is over and the "hurry up and finish" exit music starts to play, we'd like to take a moment to thank some of the people who helped make this possible, because you know we love the opportunity to make a speech.
THE DREAM TEAM
When you have a team this good, the sky's the limit. Even then, the movers and makers at The Abbi Agency are always shooting for the stars. It's safe to say that the team we've assembled isn't slowing down anytime soon, and we couldn't be more proud of everything we have built, and all we have yet to achieve. In addition to putting out some top-notch work, our team has also been living and breathing TAA's B Corp philosophy of "Be Bold. Be Boundary-Breaking. Be Big-Hearted." We love nothing more than committing to our communities and the causes that transform them, which is why Do Good Sh*t, another agency philosophy, is designed to remind the team to seek out pro bono work for causes that need support and throw their backs behind what truly matters.
This award is the culmination of so much hard work and passion, and although we already knew that this team—the beating heart of the agency—is absolutely indomitable, it sure is nice to have another award we can point to when we say it.
OUR PARTNERS IN CREATIVITY
Successful campaigns require a huge amount of patience, teamwork, and zeal to even get off the ground—between team members, but also between an agency and its clients. Working with the brands we do—tech leaders to government agencies to travel destinations and everything in between—is such a huge honor, and allows us to reach for new heights every single day. We don't take for granted the ability to work with some of the top industry professionals and thought leaders around, and can't wait to see what we do together in 2023.
OK, THEY'RE TELLING US TO WRAP IT UP
We here at The Abbi Agency couldn't be more excited to kick off the year in such a special way. Going up against some of the best marketing agencies and media companies across the West Coast and coming out on top is a huge honor. What a way to start 2023. Now, we truly feel like we can do anything. With that being said, we can't wait to see what this year has in store for us, for our fearless team and for our extraordinary clients. Mostly, we just can't wait to produce more award-winning work that sparks connection, engagement and wonder.
If your New Year's Resolution happens to involve one-of-a-kind storytelling and data-driven results, or finding a killer new integrated marketing agency, drop us a note or give us a call. We have a feeling 2023 is going to be our year—let's make it yours too..
Contact Us
Reach out today to chat about your marketing initiatives for 2023, or take a peek at some of the magic we've made on our Work page!
Related Posts