Sustainable Travel and Content Creators: Lessons From the 2022 Outdoor Media Summit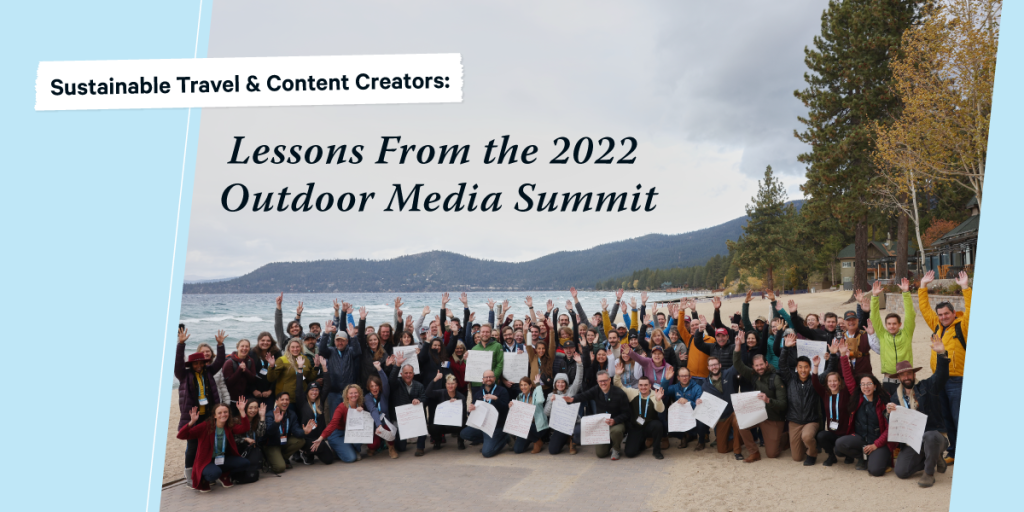 The Outdoor Media Summit showed content creators and brands how to promote responsible tourism
By Alli Williams
Earlier this month, The Abbi Agency had the opportunity to attend the Outdoor Media Summit in North Lake Tahoe, Nevada. Over 175 media, content creators, marketers and big-name brands came together to collaborate and discuss the state of sustainable tourism.
Sustainable tourism is a practice that counteracts the social and environmental impacts associated with travel. Also known as responsible tourism and ecotourism, this practice conserves natural heritage and biodiversity, and respects the socio-cultural authenticity of communities. This concept of travel requires buy-in from all relevant stakeholders, including tourism offices, business owners, lodging partners and locals, as well as strong political leadership to enact sustainable policy.
At the agency, we represent many destinations that support responsible travel initiatives, like Travel North Tahoe Nevada and Yosemite Conservancy, so that visitors and locals alike can enjoy the area for generations to come. There's a lot that goes into sustainable tourism; it's not simply picking up trash on the beach, or shopping in boutiques with reusable totes (although, those are great tactics to add to any sustainability plan!).
While collaborating with content creators and attending breakout sessions, we gained knowledge in how to level-up our sustainable travel efforts while leveraging creators in the outdoor recreation space. To take this campaign a step further, we've compiled our top takeaways from our time at the Outdoor Media Summit to start implementing with our travel and tourism clients, as well as work toward cross pollinating in other sectors.
Diversify the Landscape of Outdoor Recreation
Outdoor recreation is a white, male dominated industry. While more and more women are entering the space, there seems to still be a higher barrier of entry for BIPOC individuals. Earl B. Hunter, Jr., the founder and CEO of Black Folks Camp Too, led a breakout session about how we can begin to diversify the industry. As a black man, he didn't know anything about the outdoor recreation industry until he dove in head first himself. His organization's cornerstone revolves around "the belief that once black folks become more active campers and begin enjoying the outdoor lifestyle – this will help break down barriers to create more inclusive communities and stronger relationships overall."
The barrier BIPOC people face in entering the outdoor recreation industry is the need for safety and lack of knowledge. United States segregation was still prominent just 60 years ago; black people faced safety issues going into the outdoors, and in many places weren't allowed to stay out after dark (i.e. Sundowner Towns). Because of this lack of access to the outdoors for long periods of time, there's an intrinsic lack of knowledge about outdoor recreation from the black community, says Hunter.
Hunter, a content creator in his own right, is hoping to remedy this by making outdoor recreation more accessible to wider audiences, and creating a sustainable travel mindset that will help keep outdoor spaces accessible to BIPOC communities in the future.
Let's Get Political
Policy drives a lot of land stewardship and sustainability efforts, and getting local politicians involved in the conversation of sustainable tourism is key to enacting change. Content creators are crucial in this respect, as they have large followings they can inspire to take action and direct that action at the correct policy makers.
The Abbi Agency has some experience in this aspect before, even using politicos as ambassadors to support sustainable initiatives. The Recycling Ambassador Program for Waste Management of Northern Nevada was a program where our teams secure influencers and other influential individuals, like city council members and high profile business leaders, to address their communities and share about the importance of recycling.
For destinations, working with content creators to address and educate policy makers about the importance of sustainable travel legislation will help to further the message on a wide scale that can create a positive change.
Consider History of the Land
One of the keynote speakers at the summit was Jolie Varela, a content creator with Indigenous Women Hike who emphasized the importance of listening to those whose very souls are deeply tied to the land and the outdoors. No one, we were reminded, respects the natural environment as much as indigenous people. Their values, shaped over thousands of years, show us a way forward.
Land preservation and respect of the land you are traveling on will lend to sustainable and responsible travel practices. We often talk about indigenous people in the past tense, but they are very much here, living and interacting with their homelands and within their communities. We can learn a lot from these individuals and how they interact with the land, and their message closely aligns with a message of keeping the land, a destination in this case, preserved so that future generations can enjoy it in the same ways.
Video Content is Still King
Collaborating with content creators will come with a lot of technical talk about how to reach audiences, and a key thing we learned is that short-form video content is important for any social media or online platform.
TikTok has erupted in the last few years, and is a must for organizations looking to reach audiences through video content. Everyone is still learning TikTok, so try things out to find what works and what doesn't, but don't be afraid to experiment. Ignore the flashy trends, at least in the beginning, to find your own voice and value. You don't want to go viral for something that doesn't support your key messaging! In this case, if you want to leverage a message of sustainable travel, you would want your viral video to be in line with that message so that audiences will understand what your organization is about.
It's also important to provide value through education across different platforms. For instance, you can support your blog content with an Instagram Reel, share the Instagram Reel to YouTube Shorts, expand on it in a long-form video, and replicate successes on alternative topics.
After the three-day Outdoor Media Summit, our team went back to the drawing board to see how we can implement some new strategies with our clients and propel sustainable travel into a more common practice across the board.
Related Posts