Waste Management
The Power of Ambassador Campaigns
The Challenge
The power of social media in today's world is impossible to ignore— those who know how to leverage social media are gaining followers and engagement at a rapid pace, establishing a foundation to build their own brand and even feature the brands of others. The individuals who have forged their career paths in this digital sphere are known as influencers.
Among influencers, there are also those who hone in on a brand and bolster its visibility, embodying the values and mission to their audience again and again. This special subsection of influencers? You might know them as brand ambassadors.
Despite the apparent straightforwardness of these roles, both influencers and ambassadors are often cast aside as frivolities, when in reality they are incredibly influential for marketing campaigns. Understanding these two careers— and how to use them in short-term and long-term marketing efforts— will help marketers choose which option best suits their campaign.
Role Summary
This case study uses information gathered from a whitepaper by Brandbassador: Under the Influence: Influencer vs. Ambassador Marketing.
Influencer
Short term value due to large number of followers (1,000 – 10,000)

Not particularly passionate about a single product but great for getting the word out. 

Retains 60 percent of engagement rate.

Loyalty is limited; short-term relationships.

Celebrity influencers may charge more for endorsements per platform.
Ambassador
Ultimate word-of-mouth marketing. 

Not as many followers as influencers. 

Loyal and passionate about a product; long-term relationships, more authentic, as they share the same passion and values as the clients/followers. 

Must micro-influence in order to attract Gen Z clients. 

Not always celebrities (fewer than 500 followers).
Ambassadors often have great authority in their chosen niche, and as such are considered the ultimate form of word-of-mouth marketing. They are looked up to as people who share the same values and lifestyle as a particular brand, and used to great effect; consumers often trust recommendations from a third party more than they trust the brand itself. A whopping 92 percent of customers trust friends for recommendations. And though social media may seem like a numbers game, having a smaller audience allows brand ambassadors to regularly bond with the people who follow them in deeper ways.
Here at The Abbi Agency, we use both influencers and ambassadors across a variety of projects, carefully selecting them to fit with our clients' specific mission and goals. For Waste Management of Northern Nevada, TAA created a Recycling Ambassador Program using influential individuals to educate the community about proper recycling techniques.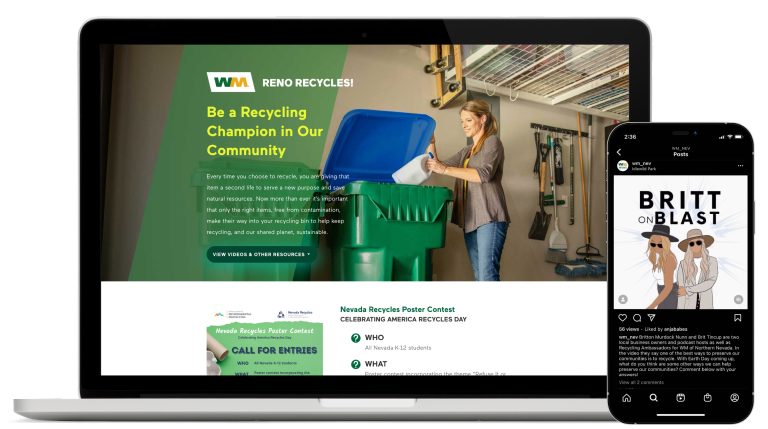 The Goal
If you're familiar with our work, you know that The Abbi Agency loves the chance to get our hands dirty. In 2021, we worked with Waste Management to educate the community about proper recycling techniques, with primary goals of smoothly transitioning new disposal protocols and ensuring that violators of recycling rules were changing their bad habits after the first or second warning.
In addition to a robust public relations plan we executed a brand ambassador strategy, recruiting local leaders with loyal followings and a passion for making our city a better place for all. Through this method, the ambassadors also presented their followers with opportunities to volunteer, participate, donate and more.
Strategy
The Abbi Agency secured six local community Recycling Ambassadors to be filmed and act as advocates for Waste Management's initiatives. These videos live on Waste Management's landing page, www.RenoRecycles.com, and were also used for 30-second ad spots with local broadcast news stations. 
Sparks City Councilmember Kristopher Dahir and Reno City Councilmember Devon Reese were among the first ambassadors to star in these videos. Others included leaders from Coffee Bar, Reno/Sparks Association of Realtors, Reno Public Market and other elected officials.
We carefully distributed this content on social channels and within the ambassadors' networks while pitching segments to broadcast and online news outlets. Through these efforts we drove awareness of Waste Management's ongoing initiatives, key messages and recycling programs.
Execution
After the development of the Recycling Ambassadors Program, the agency utilized ambassadors in the campaigns that followed, including a community challenge to clean up their neighborhood on National Cleanup Day, and a giveaway challenge called #WM2022Countdown where followers entered to win a grand prize by answering recycling trivia questions on social media.
We curated content to increase awareness of these campaigns through ambassador channels as well as Waste Management's own direct channels, highlighting Waste Management's industry expertise by positioning them around the community's recycling education.
Results
During National Cleanup Day, the agency increased engagement with the Waste Management social media accounts to reach 146,230 users, and organically placed earned media content within local outlets with a total reach of 42,398. With the #WM2022Countdown trivia challenge, we gained 595 entries across 31 days, and increased engagement by 19% with a total engagement of 953 across all relevant channels. 
When a partnership is as good as ours with Waste Management, it's just common sense to reuse and recycle it in as many ways as we can. We'll continue to build relationships with community stakeholders within the Reno/Sparks/Washoe County communities and businesses, creating educated conversations and viewpoints about the importance of Waste Management. We hope to add even more Recycling Ambassadors in the future, and further spread the message through these passionate social media mavens.