How to Drive Visitation to Your Destination Using Brand Storytelling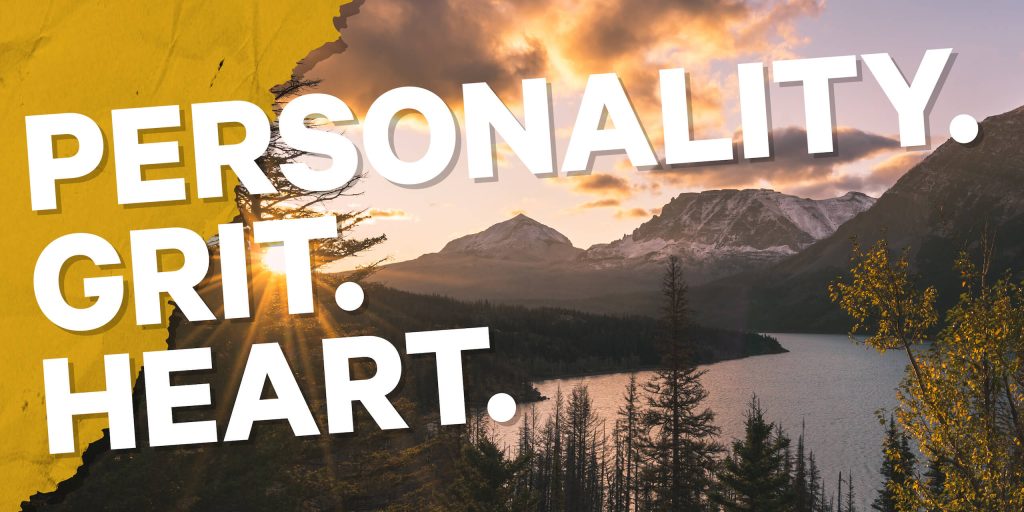 Agencies are really storytellers at heart, so it's really no wonder that crafting content abundant in narrative richness is one of the best ways to drive visitation to destinations. Bringing a place to life, giving the potential traveler a glimpse into the delights that lie within— that's what counts. Today, we're diving into how destinations can use the power of brand storytelling to craft powerful, hard-hitting campaigns that show personality, grit and heart.
In addition to this handy dandy blog, we also created a video all about How to Tell Your Brand's Story! Give it a watch for a more visual overview of drawing people in through deep, rich narratives. You'll also get a peek at some of the work we've had the pleasure of creating for destination clients who each have their own special story to tell.
What is Brand Storytelling?
Though awareness is the obvious starting point on the consumer journey, agencies and destinations can think outside the box to reimagine their customer lifecycle by developing deep, rich, engaging content— the kind an audience will remember long after clicking away. So, what's the recipe for an incredible, amazing, engaging content campaign? Our book of marketing recipes advises: a dash of key messaging, a sprinkle of content themes, a pinch of target audience segments, and a healthy dollop of the destination's brand pillars. We like to call this delicious little combination by the name "brand storytelling."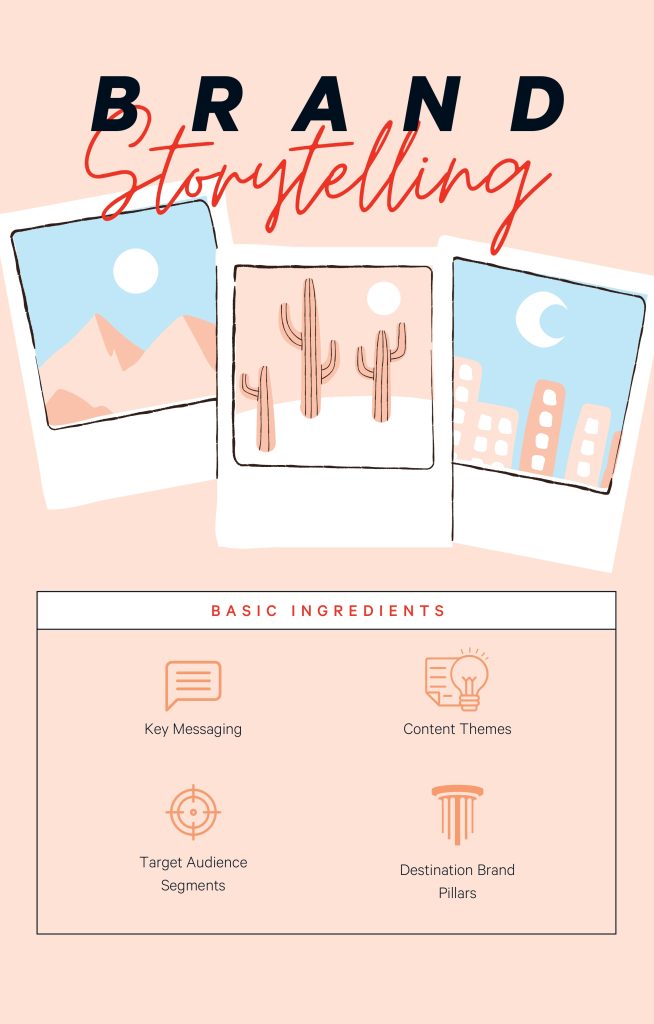 Over the past three years, travelers' wants and needs have changed quite drastically. Being cooped up inside during quarantine has led many to reevaluate the way they see travel, and start recognizing the immense value of experience over material goods that provide fleeting moments of happiness. With this said, we recommend diving into brand storytelling with current travel trends in mind. It's not just the end point that matters for travelers anymore— every part of a trip is now a chance for them to experience something new and exciting.
Campaigns that Show, Don't Tell
Remember that old saying drilled into the heads of America's wordsmithing youths? "Show, don't tell." Well, you can call your middle school English teacher and tell them they were right.
One way to create a feeling of sensory storytelling is via character ambassadors and spokespeople. Colorful personalities can blend with the natural beauty of a destination to foster a deeper understanding of what makes it unique, while simultaneously capturing the curiosity of people from across the world. Long-form videos, a strong social media presence and blog posts paired with data-driven paid media tactics are a great way to support this kind of campaign. Paid media will do most of the heavy lifting when it comes to the awareness phase, after which the consumer will be driven to a website with more key pillars and informational pages, hopefully leading to a booking. The Abbi Agency personally delved into this kind of deep and narratively-rich brand storytelling with a seven-part video series titled "Best Kept Carmel," which highlighted some of the most compelling behind-the-scenes stories of a charming coastal hamlet you may have heard of, called Carmel-by-the-Sea. Using rich sound design, cinematic video production and a careful fidelity to the authentic narratives within the community, the series evoked the art colony past and vibrant cultural future of the village. To check out our Best Kept Carmel work sample, click here!
Another tactic to harness the power of brand storytelling is to create an entirely sensory-focused campaign, giving consumers a unique opportunity to immerse themselves in the story of the destination before they even visit. Using an integrated launch strategy that emphasizes key destination drivers, like arts or culinary excellence, is a slam dunk in terms of audience engagement and immersion. The content is free to tell the story of the destination in a way that weaves together history, events, fun facts, must-see sights, top-tier restaurants, wellness experiences, local galleries and art, and more — encouraging travelers to explore and widen their horizons while in-market. Here at The Abbi Agency we experienced the power of immersive storytelling first-hand with a highly curated series of videos entitled "Art of Culinary" for Edgewood Tahoe Resort. Inviting pastry chefs, butchers, ingredient specialists and bakers, the seven-part series showed the art and science behind every dish that comes out of the Edgewood Tahoe kitchen. Click here to experience the mouthwatering "Art Of Culinary" work sample.In a world where technological innovation blooms every single day, destinations have an opportunity to increase awareness with unique marketing strategies. One example is the emerging trend of "off the map" destinations and more exploratory road trips. For example, TAA teamed up with our client Discover Kalispell to create "a passport to America's last frontier" powered by Bandwango, a travel technology platform that provides a digital passport full of places and experiences visitors can enjoy. With a list of locations travelers could "check in," the platform provides both incentive to sign up (discounts and the chance to win the grand prize) as well as once-in-a-lifetime experiences that will stay with them for a long time after they leave Kalispell in the rear view mirror. Click here to read the full work sample of Discover Kalispell's Town & Trails Pass.
If you take away one thing from this post, let it be this: at the heart of marketing always has been, and always will be, the human experience. The center of everything is an innate, primordial desire to belong to something bigger than ourselves. With the post-COVID travel mindset continuing to value experience over short-term purchases, agencies and destinations are perfectly positioned to leverage brand storytelling to tell the stories that make people want to belong.
Related Posts