The Abbi Agency Airlines: Your Guide to Top Travel PR Placements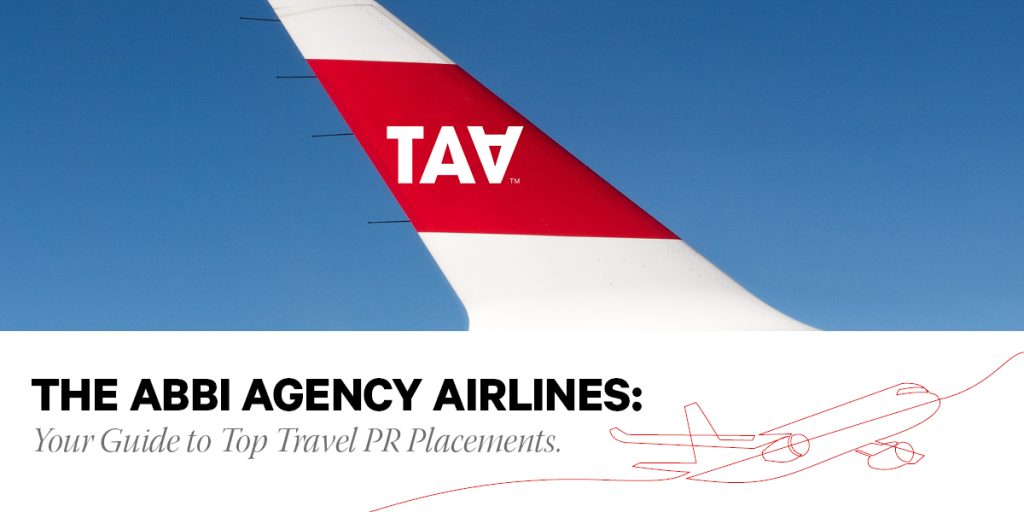 Ladies and gentlemen, welcome onboard TAAirlines' Flight PR1 with service from media strategy to crisis management. We are currently third in line for take-off and are expected to be in the air in just a few minutes. In the meantime, we ask that you please fasten your seatbelts and direct your attention to our PR experts as they walk you through the stories that soared to new heights in 2022. Please make sure that all carry-on luggage is stowed under the seat in front of you, and enjoy the flight!
Looking for a little in-flight reading? Check out our travel & tourism chops
Taxiing on the Runway – Strategy
In the last year, our superstar PR team collectively garnered over 1,500 placements. Fun fact: if all of our placements had a seat on an airplane, it would take roughly three Boeing-747 airplanes to fit them all. These placements did not come without a deep understanding of unique client differentiators, media relationships and individual goals; whether our clients are sitting with a first, business, or economy class budget, we address each different goal and objective with the same amount of attention and expertise, ensuring that our clients are racking up TAA skymiles for years to come.
With clients rolling out onto the tarmac with new messages audiences might not be familiar with, our team prides itself in being strategic with the ways in which we position stories to both journalists and readers. Driving awareness of these new messages is of utmost importance, as it enhances the overall visitor experience and can increase visitation numbers to these destinations.
Yosemite: Read our feature in CNN Travel!
"The Yosemite placements were so important because they helped us achieve multiple goals – from notifying potential visitors that reservations were happening to educating them on why the need was so vital, the coverage in turn created a more positive visitor experience thanks to the exposure for the reservation system."

Dani Hannah, Account Executive
Reaching Your Cruising Altitude – Audience Recognition
Good afternoon passengers. This is your captain speaking. First, I'd like to welcome everyone onto Flight PR1 with TAAirlines. The cabin crew will be coming around in about twenty minutes to offer you a light snack and a fabulous new PR partnership, and the inflight movie will begin shortly after that. I'll talk to you again before we reach our destination. Until then, sit back, relax and enjoy the rest of the placement presentation.
It's important to pitch specific media based on each client's target audiences, as each destination attracts a different demographic— frequent fliers, if you will. In order to do so, your Abbi Agency-based crew conducts in-depth research to understand each destinations' current and ideal visitors. For example, Powder Mountain attracts adventure-seekers, while Carmel-by-the-Sea attracts luxury travelers. In order to see an increase in visitation and awareness of these destinations, our team works with target publications that appeal to each respective audience.
Powder Mountain: Read our feature in TripSavvy!
"While Powder Mountain is North America's largest ski resort by skiable acres (8,484 to be exact), it continues to remain true to its core values and ensures inclusivity across its many offerings on the mountain. This placement in TripSavvy highlights those very core values while giving PowMow the title of the Best [ski resort] for All Types of Skiers. To top it off, TripSavvy's audience is known to be adventurous and always up for new experiences. These qualities align directly with PowMow's target audience, making this a perfect placement that showcases the renowned reputation PowMow continues to earn year over year."

Bridgette Menist, Junior Account Executive
Carmel-by-the-Sea: Read our feature in The Telegraph!
"The goal is to promote Carmel-by-the-Sea as a top rated, world renowned destination. Securing this feature in a high level, nationwide publication exposed Carmel-by-the-sea to the UK tourism market, increasing the likelihood of off season travel. It also provided an opportunity to showcase the area and some of the one-of-a-kind experiences visitors can enjoy."

Lydia Eason, Media Relations Specialist
Navigating Turbulence – Rapid Response
Ladies and gentlemen, we seem to be experiencing some turbulence! Please return to your seats and fasten your seatbelts, while we give a quick safety rundown. With media trends or travel topics ever changing, our team keeps an eye out for ways to be a part of the story and favorably alter the flight path. While joining in on media trends can help drive awareness, it is important to make our clients stand out among the competition.
Powder Mountain: Read our feature in The Points Guy!
"Powder Mountain is a unique ski resort known for its expansive terrain and being intentionally uncrowded. The resort is serious about its ski experience and offers "no frills." The Points Guy article exemplified the experience of riding crowd-free at Powder Mountain and received over 30.5K views, and included a backlink to drive interested skiers to Powder Mountain's website. The list was also syndicated in Unofficial Networks, a national ski industry outlet which is a major target for Powder Mountain, garnering nearly 5,000 more views.

The articles came out in November, right ahead of ski season. It was perfect timing, given many skiers had horrible experiences last season with crowds and were on the hunt for a new mountain to shred. Timing, caliber of website and key message inclusion made this a win for Powder Mountain."

Alexis Keith, Senior Public Relations Manager
Safe Landing – Event Public Relations
Flight attendants, prepare for landing please! When our clients host annual events or debut new ones, TAA jumps in and spreads the word to ensure a safe landing— locally, regionally and nationally. These placements drive event awareness and encourage new and returning visitation, especially with many events returning post-pandemic.
Morro Bay: Read our feature in the Los Angeles Times!
"One of Morro Bay's marquee annual events is its Kite Festival, which takes place each spring on Morro Beach. This placement with LA Times highlighted the festival, encouraging drive-market visitors to attend. It was also sent in a weekly newsletter to reach an additional audience directly."

Alli Williams, Senior Public Relations Manager
Solvang: Read our feature in the Los Angeles Times!
"We knew the annual Solvang Julefest was one of the biggest events in town as it runs from the last weekend in November through the first week in January. When we set target publications to cover the event, we aimed to reach an audience outside of the region to encourage holiday road trips and travel. This placement in The Los Angeles Times is the perfect example of our efforts towards the road trip story angle and our client's goals of showcasing the character and charm of the town. This placement was also included in the weekly LA Times Escapes newsletter."

Taylor Cahoon, Junior Account Executive
Enjoy your travels!
We've only given you a small sampling of where TAAirlines can take your destination. These placements from 2022 alone showcase the uniqueness of each client and the strategy put forth to reach their goals. The travel team has reached new heights in the last year, and so has our client list. We are thankful to our travel and tourism clients for choosing us as their preferred airline, and look forward to adding additional frequent fliers in 2023. To view more of our work in travel and tourism, as well as other specializations, visit our work page.
On behalf of TAAirlines and the entire crew, we'd like to thank you for joining us on this trip. We look forward to seeing you on board again in the near future. Have a nice day!
Related Posts