Talk Nerdy to Me: SEO-Driven Public Relations (PR)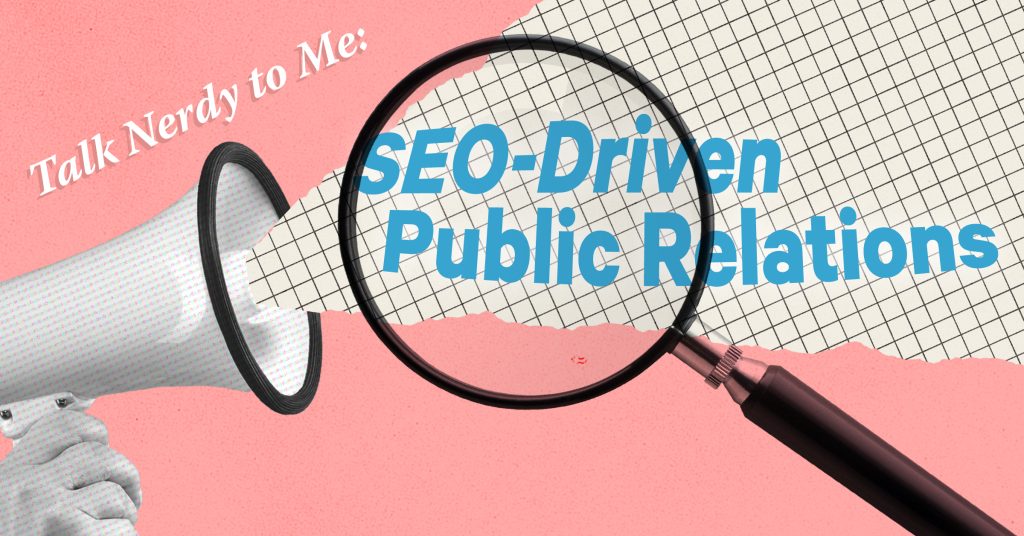 While we know the digital age has dramatically transformed the public relations industry (bye bye, faxed press releases!), integrating SEO is now an essential part of any successful modern PR content strategy.
I know what you're thinking. "Wait, SEO?! I thought that was for website pros! What does that have to do with my media relationships and pitches?!"
Well, take a seat. We're going over the ABC's of SEO PR (say that five times fast).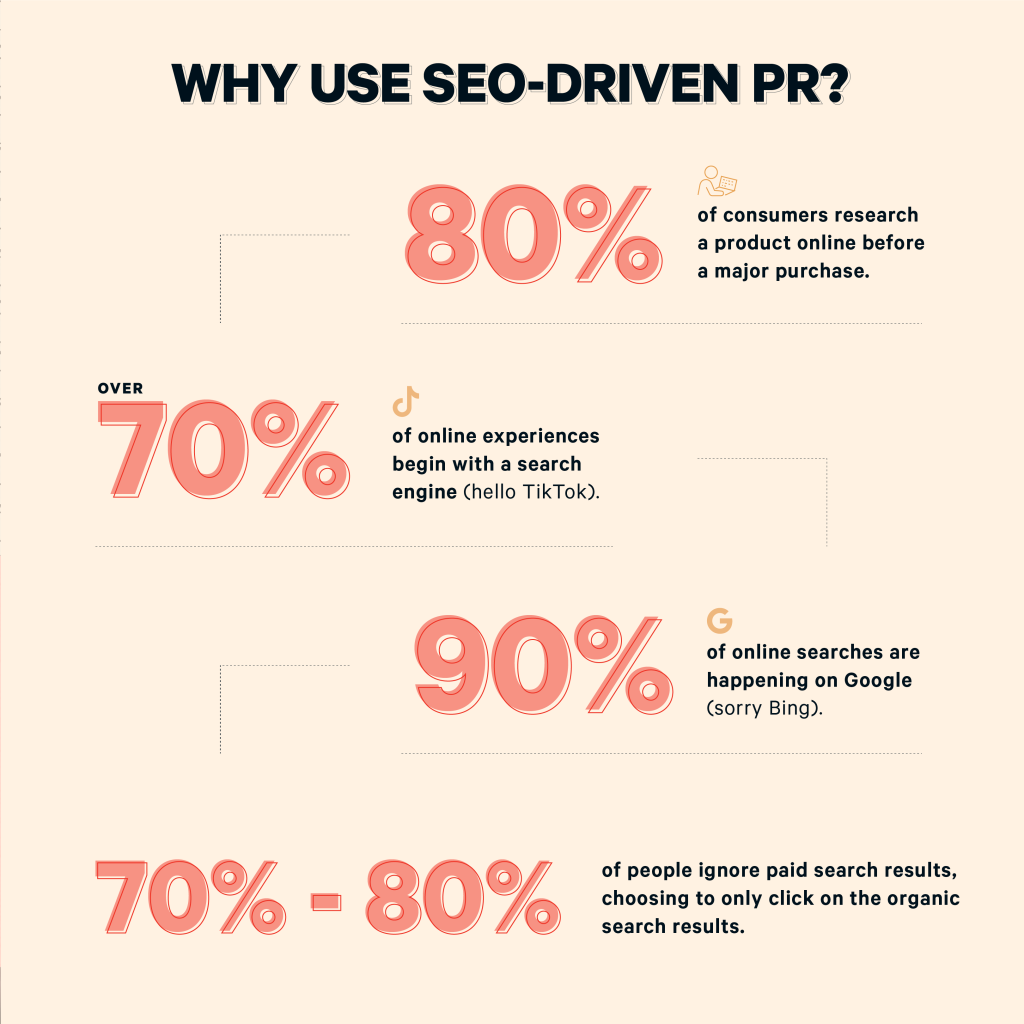 WHAT IS SEO-DRIVEN PR?
Once upon a time, a brand's top priority was gaining authentic, earned media attention that aligned with their overall messaging and values. Don't get it twisted, that focus is still a central part of our strategies – but incorporating the digital component of search engine optimization and top-ranking keywords into our pitch strategies and press releases helps amplify the results.
search en·gine op·ti·mi·za·tion (n.):
the process of maximizing the number of visitors to a particular website by ensuring that the site appears high on the list of results returned by a search engine.
pub·lic re·la·tions (n.):
the professional maintenance of an intentional public image by a company or brand.
SEO + PR = a match made in heaven.
We know that Google is the largest product discovery platform in the world (LOL, remember BING?). According to Agility PR, it's been found that:
80% of consumers research a product online before a major purchase.
Over 70% of online experiences begin with a search engine (hello TikTok).
90% of online searches are happening on Google (sorry Bing).
70-80% of people ignore paid search results, choosing to only click on the organic search results.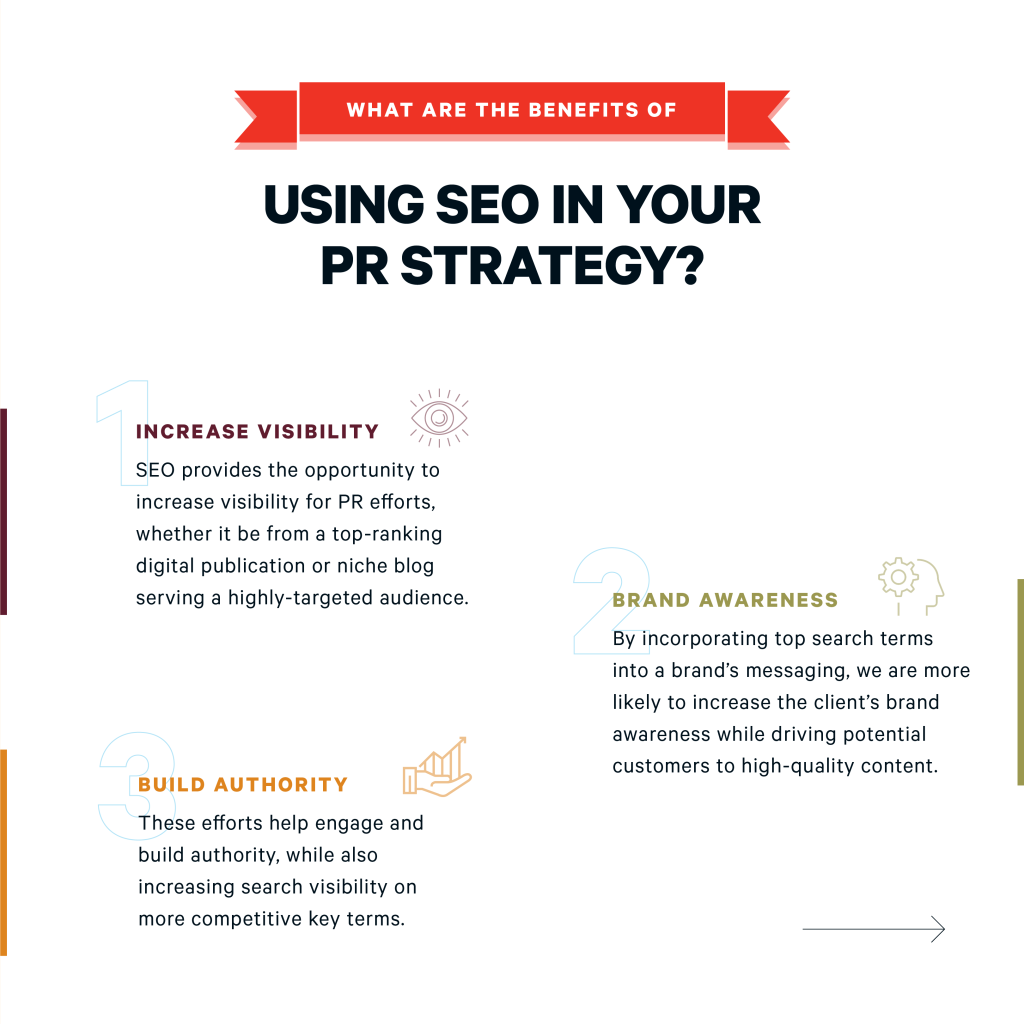 WHAT ARE THE BENEFITS OF USING SEO IN YOUR PUBLIC RELATIONS STRATEGY?
So, here's the #truth: Search engine results clock in at #2 on the list of ways people discover new brands, followed by earned media. That means SEO and PR are arguably the most effective communications duo.
If PR professionals don't leverage the best practices of search engine optimization, the earned media coverage received doesn't provide as much value as it could or should. SEO provides the opportunity to increase visibility for PR efforts, whether it be from a top-ranking digital publication or niche blog serving a highly-targeted audience.
By incorporating top search terms into a brand's messaging, we are more likely to increase the client's brand awareness while driving potential consumers to high-quality content on owned channels and ultimately to a brand's desired conversion.
The gold standard of this would be if an earned media placement (preferably on a publication with a high domain rank authority) includes a hyperlink to your brand's website, flagging importance (or "link juice") to search engines and therefore help your owned channel (your website) rank higher for target keywords on its own. Being intentional in including hyperlinks in outgoing messaging is key here – it guides the reader towards the valuable content.
SEO-driven PR, paired with engaging content already on your website, provides a higher probability for a company to appear at the top of an audience's search results (a crucial piece of the marketing funnel puzzle). Don't worry if you don't already have content on your website! You can also create an SEO-driven onsite content strategy and amplify that content with PR efforts at the same time.
These efforts help engage and build authority, while also increasing search visibility on more competitive key terms. This also means that these quality storylines are being pushed to relevant, high traffic pages and will be seen by inbound leads.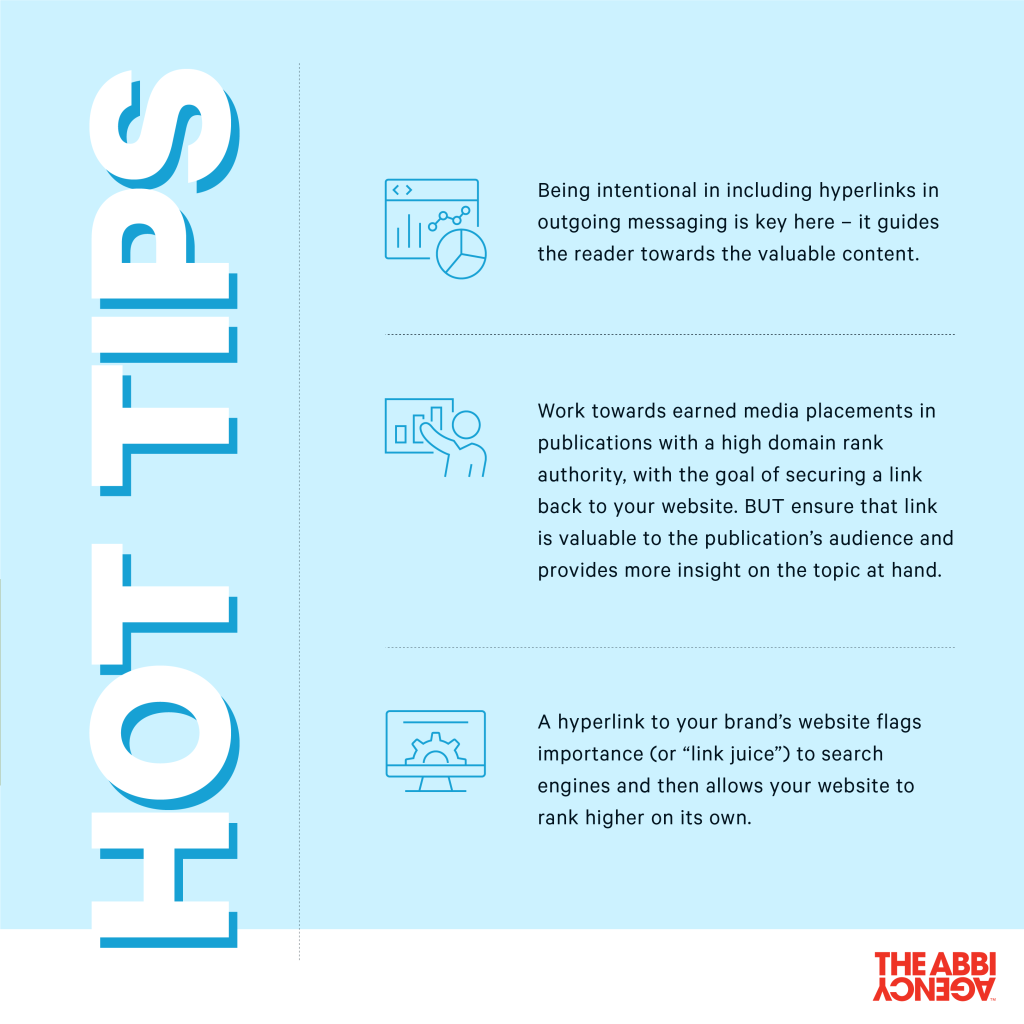 HOW DO I GET STARTED?
You didn't think we'd give away all of our cards, did you? 😉 Developing new backlinks and subsequently boosting a website's domain authority is an integrated process that The Abbi Agency has taken from a strictly SEO emphasis to one that is collaboratively managed by the public relations and digital content teams. So, let's chat.
Want the full infographic? Pop your addy below and we'll share it with you!
Related Posts