Why and How to Audit Your Website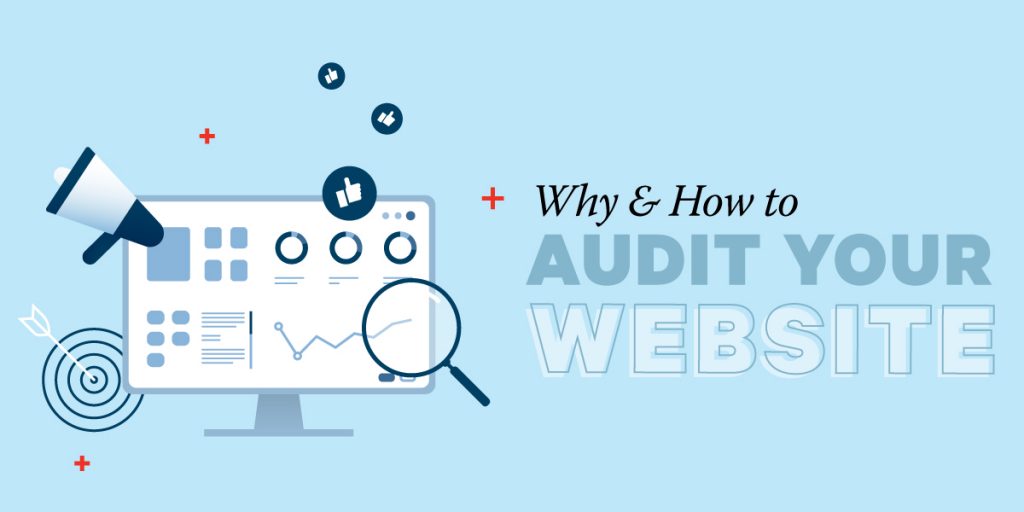 Performing a website audit is a critical step when it comes to understanding a critical piece of your marketing funnel, whether you're seeing tons of traffic and conversions or none at all. A site audit is the best way to identify and understand issues that could be impacting your site's performance and efficiency. Even if you're seeing a steady flow of traffic, your site might not be performing at its full potential. An audit will show if you could see even better results.
The Bottom Line: A properly optimized website performs better and converts more users. So unless you don't want more traffic and conversions – keep reading.
What to Look For in an Audit
Now that you know you should audit your website to keep tabs on its performance and health, we'll share what you should be looking for and how to conduct an audit.
It's important to establish a baseline of what is and isn't working on your current site so that adjustments can be made. Here is an overview of some of them major points to look for when auditing.
Content

Each unique web page should be focused on a single overarching objective and subject.
There should be little to no overlap of content. Each page should be unique, as search engines view duplicate content negatively, impacting your search-engine optimization.
Content should be as brief as possible while retaining all relevant information. Keep it short and sweet.
Tone, voice and grammar should all be consistent sitewide.
Content should be written and designed to be optimal for mobile users. Look for responsive resizing of text and space. You can test pages on your phone or find an online tool that displays various browser types and sizes.
Make sure keywords that match the search intent of the content have been strategically and organically written into the copy.
Content should be well-organized and structured according to SEO best practices.

SEO: For technical SEO errors, it is important to look for the worst offenders and address those first.

Broken Pages (404 errors) should all be fixed.
All pages should have meta descriptions that have been written with keywords that have been established from intent-based research.
Images and links should have alt text to help users who browse the site with the aid of a screen reader.
Make sure page headers have been correctly written and reflect the contents of the page.
A schema helps SEO crawlers index your pages. Make sure you have one that is correctly formatted.

User Experience. The design and flow of your website is crucial to retaining and delighting your users. When auditing your UX and Design it is important to look for any trouble areas that users get hung up on while also looking for areas that are working well. In order to check if your UX is optimized check the following:

Menu Structure and Information Architecture.

How information is laid out on your website will indicate whether your site is easy to use and how quickly a user can find the information that they desire.
Consider best practice site structure. These are factors such as page depth being no more than 3 clicks on average from the homepage, and to include breadcrumbs in the navigation to help users orient themselves within the site.

Site Navigation and Design.

Avoid novel icons and placements for navigation as most users are accustomed to the status quo and veering too far from the norm can cause serious confusion, leading to reduced time on site and fewer conversions. Visitors will quickly give up if they can't find what they want.

Website Engagement Metrics. Perhaps some pages are performing great on your site, but if you don't audit your analytics, you'll never know which ones are winners and which ones might not need as much attention. This helps identify topics and pages that you should focus on creating.

Traffic Overview. Take the pulse of your website, and see what the trend is in your data.

Key metrics to check: Users, Session, Bounce Rate, Pages/Session, Average Session Duration and Page Load Speed.

Demographics. Understand what types of people are coming to your site to understand your audience better.

Key metrics to check: Top Cities, Gender, Age, Device Type.

Behavior. How are people engaging with your content, what actions do they perform most often?

Key metrics to check: Traffic Acquisition Channel, Top Pages, Top Events/Goals/Conversion

Competitor Analysis

How does your site stack up compared to close competitors and industry leaders?
Picking The Right Tool For The Job
When it comes down to the nitty gritty of the audit, it can be overwhelming with the number of pages and pieces of content that can live on your website. That's where auditing tools come in. These tools can help give you the details that you need to know about your site's health and performance.
Free Tools
Paid SEO Tools
Paid auditing tools like Moz and SEMRush can be helpful for tracking long-term performance out of your site and understanding historical data so you can know how the site is doing overall.
Whether you use free tools or paid tools, you'll end up with lots of information and data. But the key to success is in how you turn that information into a strategy to make lasting differences.
Related Posts