6 affordable digital marketing tools for small businesses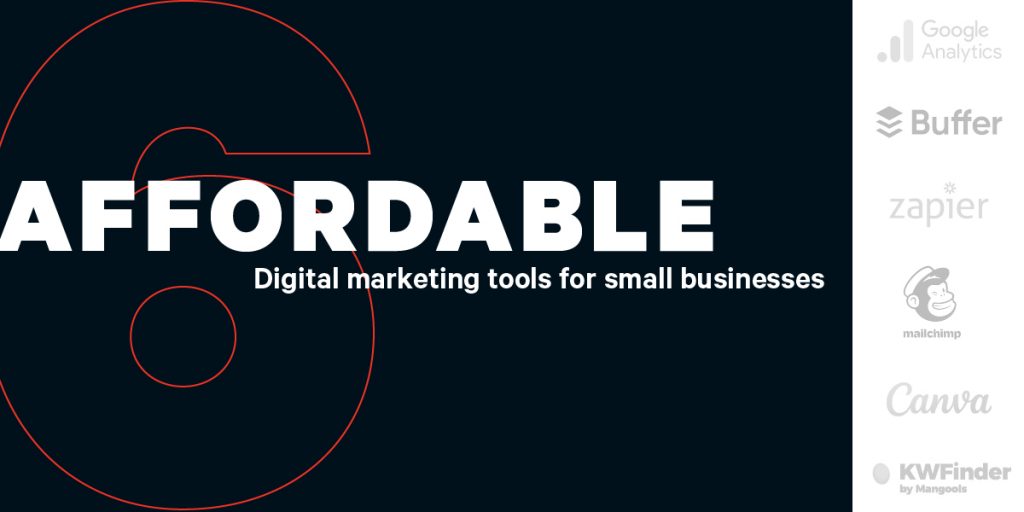 Kat Boogaard
You've worked hard to start your business. But the reality is, the work has just begun.
Once you're up and running, you need to actively market your small business to get in front of more prospective customers, make more sales, and boost your bottom line.
Does that feel like another daunting responsibility to add to your never-ending to-do list? You aren't alone. One study conducted in 2019 found that 86% of small business owners would rather spend time on other business activities than marketing.
6 Must-Have Digital Marketing Tools for Small Businesses
Here's the truth: Whether you dread it or not, marketing is important.
The good news is that it doesn't need to require overwhelming demands on your time and energy—especially if you have the right digital marketing tools to support you.
What it is: Analytics platform that can give you information about who is visiting your website, where they're coming from, and what they're interested in.
What it costs: Free
In order to market your business effectively, there's one crucial thing you need to understand: your audience.
Google Analytics is the most-used website analytics platform available, and it can give you information about things like your audience demographics and interests, sources that are referring traffic to your website, and user behavior (like which of your pages are getting the most visits or have the longest session time).
These are essential details you'll want to know when auditing your website. You can use this information to understand what's working (and what isn't) and improve your marketing efforts moving forward. The best part? Google Analytics is completely free.
2. Buffer
What it is: Social media tool to plan and schedule your social media content.
What it costs: Free plan available, with paid plans starting at $5 per social channel per month.
You've likely heard that you need to be active on social media, but it can quickly slip to the back burner if you're trying to create content and post in real-time.
Buffer makes it easy to create and schedule content for all of your social media channels, including Facebook, Twitter, Instagram, LinkedIn, and Pinterest. Not only does that save you from having to post if and when you think about it, but it also allows you to be more strategic with what you're posting and sharing.
It's certainly not the only social media scheduler on the market. Other popular ones include Sprout Social and Hootsuite. But, Buffer is a great fit for small business owners because it's both cost-effective and intuitive to use.
3. Mailchimp
What it is: Email marketing platform to send promotional messages and updates to your email list.
What it costs: Free plan available, with paid plans starting at $9.99 per month.
Imagine that you have a new product available. How will you let people know? You might post about it on social media or put some signage up in your brick-and-mortar store if you have one. But, there's another important piece of the puzzle: email marketing.

Think it sounds complicated? It doesn't have to be. Mailchimp is an easy-to-use email marketing platform that can help you draft and send promotional messages or even create entire automated campaigns to nurture your audience and convert them into paying customers.
Again, it's one of many options when it comes to email marketing software. However, most business owners love how straightforward it is to use—especially since they don't have endless time to dedicate to their email marketing efforts.
4. KWFinder
What it is: Keyword research tool that helps you find long-tail keywords to target.
What it costs: Plans start at $29.90 per month.
How do potential customers find your business? There are a number of different avenues, from word-of-mouth to paid advertising. However, in today's digital-obsessed world, search engine optimization (SEO) needs to be on your list.
To put it simply, SEO is the process of identifying keywords that your target customers are searching for and then creating content that fulfills those search terms—with the goal of ranking high in search results.
There's a lot of competition for the more common, short-tail keywords (e.g. "jewelry"). Rather than trying to crack that code, KWFinder is a helpful tool that will uncover long-tail keywords (e.g. "colorful dichroic glass jewelry") that you can target. You'll stand a better chance of ranking and get your business in front of more people who are searching for exactly what you offer.
5. Canva
What it is: Graphic design and image creation platform built for people who aren't designers.
What it costs: Free plans available, with paid plans starting at $119.99 per year.
Maybe you need to create a flyer for an upcoming event. Or an image for a blog post. Or a graphic you can post to Instagram. If you don't pride yourself on your graphic design talents, you can spend hours trying to make what you need.
That's where Canva comes in. This platform makes design simple, with a search bar and drag-and-drop functionality to create the perfect graphic without any stress or frustration.
Plus, Canva has thousands of templates that are easily customized so you can walk away with a professional-looking graphic in under five minutes.
6. Zapier
What it is: Automation tool to connect the apps you regularly use and ensure that repetitive tasks happen automatically.
What it costs: Free plan available, with paid plans starting at $19.99 per month.
Even with the right tools at your fingertips, marketing still requires a time investment. The good news is that you can ease that burden with automation.
Zapier is a tool that connects apps and automates regular workflows. You can use it across your entire small business (such as automatically saving files or updating a database). But, you can also use it to automate a lot of your marketing activities.
For example, you could create a workflow to automatically send "thank you" messages to customers who make a purchase. Or, you could keep a spreadsheet of all of your blog content. All you need to do is set up the workflow and Zapier will handle the rest.
Market Your Small Business (Without a Huge Time Investment)
There's no getting around the fact that marketing your small business will take some time and energy—but technology is on your side. This list covers the basic categories of digital marketing tools: analytics, social media, email marketing, SEO, graphic design, and automation.
However, beyond the fundamentals, the smartest way to find the best tools for your business is to ask yourself this question: What problem are you trying to solve?
Maybe you've discovered that you need to increase the conversion rate on your website. Or perhaps you're trying to find a way to track the performance of all of your marketing channels in one place.
If you start with an actual need you've identified in your small business, you'll find the tools that truly take your business to the next level.
Related Posts