TAA's Morro Bay Brand Refresh Earns a Bulldog Award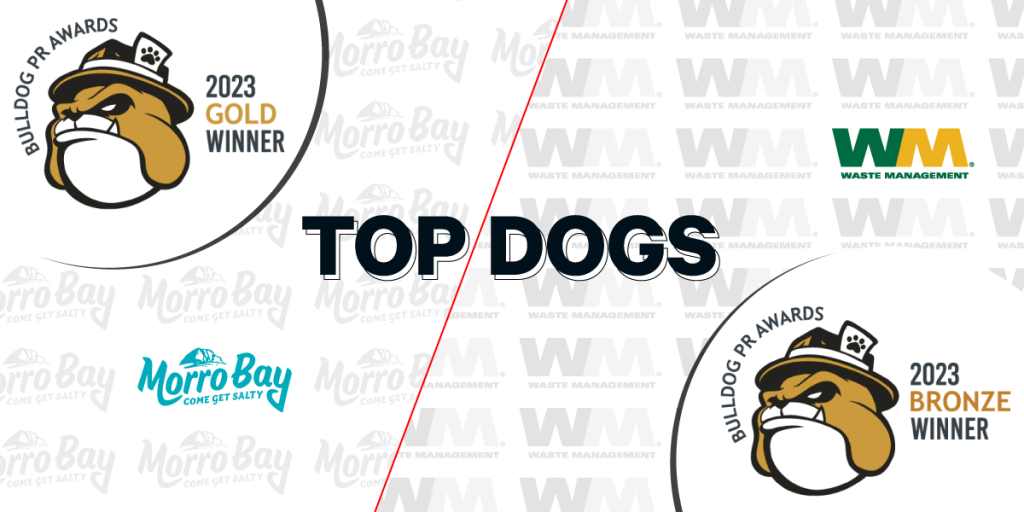 One question for you: who let the dogs out? Why, we did of course! The Abbi Agency couldn't be more thrilled to announce that we've received two Bulldog PR Awards for our Morro Bay and Waste Management campaigns. We love getting recognition for the work we pour our hearts and souls into, especially when that recognition is a shiny, tail-waggin' Bulldog Award (or two).
The Bulldog PR Awards recognize the very best and brightest in communications and public relations, awarding work with outstanding creativity, innovation and strategic thinking. Pretty cool, right? Here are the awards we had the pleasure of taking home this year, in all their glory:
Best Brand Launch – 'Come Get Salty' Morro Bay
Best Hyperlocal Campaign – Northern Nevada Waste Management
But wait, there's more! In this blog post, we're going to be talking a little bit more about how our team put their genius to the test by completely rebranding the Central Coast oasis known as Morro Bay, with a little help from our resident Creative Director and bonsai tree master, Thaison Kawal. Let's roll!
Refreshing the Morro Bay Brand
Brands are sort of like people— every once in a while, they need to shake up their image. For humans, we can get a fresh new haircut, buy a cool pair of pants, or maybe even add a new step in our skincare routine. For brands? It's all about the logo and tagline, baby. Working in tandem with a clever tagline, a hot new logo can serve as a key visual tool for brands trying to keep up with evolving trends and audience expectations.
In Morro Bay's case, we needed to devise a new brand campaign and identity that hit all of Morro Bay's key differentiators, summed up in the following tidy bullet points:
Coastal town with authentic charm
Active fishing community with a long history
Filled with water-based outdoor adventures and activities
With these tenets of coastal living in mind, our team— headed by the fearless Thaison Kawal— was able to start reworking Morro Bay's previous logo and tagline: "Put it on coast."
Perfecting the Art of Getting Salty
Morro Bay's new brand identity would have a demanding job: not only did it have to resonate with visitors, but also represent the locals who actually live there. More than anything, the team wanted to build something special that was rooted in the Morro Bay community. Thaison tells us that when he visited Morro Bay for the first time, he was struck by how much the element of salt is engrained in the local community; the heart of town is salt. Salt in the water— that spectacular, primordial force, waves crashing against white sandy beaches, lapping at the jagged volcanic peak and landmark known as Morro Rock. Salt in the air, a gentle sea breeze that whistles lazily through town. Salt in the food plucked fresh from the ocean's briny waters. Morro Bay, in one word? Salty.
Our team took this idea and rolled with it, ultimately devising the tagline "Come Get Salty." It's fun, it's hip, and most of all? It's salty! Thaison and his merry band of creatives were also keenly aware of the term "salty" in modern culture— it's a mood, a feeling, a vibe. The tagline reclaims this culturally pejorative term, relating it instead to a community that can only be described as "salt of the earth." A double meaning that gives the Morro Bay brand just a little more punch. A creative birdy told us that the team almost went with "Get Salty," but decided that "Come Get Salty" is more conversational and inviting.
As for the brand logo? Thaison and the rest of our creative team knew it had to revolve around the city's monolithic centerpiece and most defining feature: Morro Rock. Instantly recognizable and undeniably majestic, the Rock was a perfect choice for Morro Bay's new graphic mark. Minimal and stylish, with subtle water lines to imply the landmark's innate connection to the sea, the mark bolsters a sense of endless adventure to be had in the Bay.
Wrapping Up
Any successful rebranding effort takes an enormous amount of collaboration between all parties involved, from destination marketing organizations, to local stakeholders, to agencies like The Abbi Agency. Thaison says that when faces lit up at the "Come Get Salty" branding presentation, he knew they had created something special. A well-crafted brand is so much more than meets the eye— if done with care, a refreshed identity can breathe new life in a place like Morro Bay. We'd like to thank everyone who came together to make this process (and award!) possible, especially all the good folks at Visit Morro Bay.
If you feel like chewing on more delicious nuggets of marketing knowledge, The Abbi Agency blog is the place to be. Don't forget to head on over to our Work page to check out more award-winning work!
Related Posts