Reno-Sparks Association of Realtors
Owning the Real Estate Conversation
Utilizing PR to shape public perception of the residential housing market
The COVID-19 pandemic combined with the construction of the Tesla Gigafactory and significant growth in the tech sector transformed the Reno-Sparks region of Nevada into one of the hottest housing markets in the country. There were huge price increases and properties selling for tens of thousands over asking price within hours of being listed. This rapid change created confusion and worry for many local residents who struggled to understand what these changes meant for them and their families, especially those looking to buy in their hometowns. For the Reno/Sparks Association of Realtors® (RSAR), there was also an opportunity to highlight the value of working with a Realtor® to navigate a tumultuous market for both buyers and sellers.   
RSAR enlisted to The Abbi Agency to achieve this mission and drive utilization of Realtors®  – it was our mission to figure out how.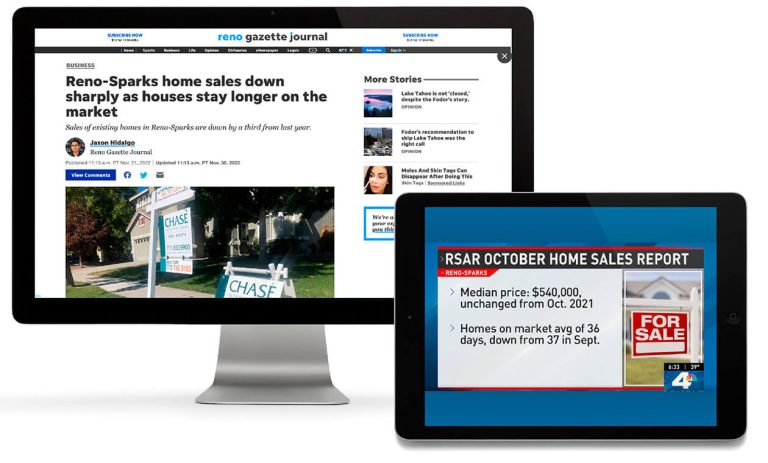 The Big Integrated Idea
We knew we had two major constraints in helping RSAR achieve its goals: First, housing is complicated and personal. Second, as a member association, we knew we needed to be extremely conscientious of how every dollar of members' dues was spent and generate the biggest bang with limited bucks.
We also had two incredible assets: knowledgeable, media-friendly clients and a regular source of hard data. Our approach was to design and execute a media relations campaign that would raise brand awareness for their organization and shape public understanding of the residential real estate market by positioning themselves as the trusted local voice that could contextualize the changes and be a reliable partner in the real estate market.
Based on our deep experience on how reporters operate, we knew that regular, easily understood data was essential. We created a two-pronged monthly media strategy. At the beginning of each month we would distribute an easily digestible housing market report for the region and make our client available to interpret the data. Then the second half of each month, we would pitch a timely story related to questions buyers and sellers had such as:
Should I sell my home now or wait?
What do interest rate changes mean for my purchasing power?
How can I increase my sale price?
This consumer-centric approach allowed us to position our clients as knowledgeable and approachable and underscore the value proposition of why a buyer or seller should utilize a Realtor®.
By consistently deploying this strategy, we helped RSAR become the 'go-to' source for reporters on housing topics. Reporters have built the monthly housing report into their schedules and proactively ask for it. RSAR drives the narrative and shapes how new developments in the housing market are understood by the public.
What's more, the consistency of the media interviews that RSAR spokespeople delivered led to inbound interview requests from national publications as well as reporters in other markets who wanted to learn lessons from the housing boom in Reno and Sparks as their own communities experienced similar trends.
Ultimately, we helped our client become the trusted voice of the housing market in northern Nevada and drive awareness of the services Realtors® offer to buyers and sellers.
Outcome Result Metrics:
Since 2020, we've helped RSAR own the conversation on residential housing in northern Nevada. Through our media relations efforts we: