Nevada Health Link
Making an Impact through Healthcare Marketing
Services
Creative
Digital Content
Digital Experience
Paid Media
Public Relations
Marketing
Brand Management
The Abbi Agency helps Nevada Health Link reach Nevada's uninsured population through impactful integrated marketing strategies
When the pandemic flipped the world upside down, one thing that changed was society's focus on taking preventative measures to stay healthy. Nevada's state health insurance marketplace, Nevada Health Link, provides the first step to protecting your health making it easy to get quality, affordable insurance.
When it comes to choosing a health insurance plan, most people rely on their employer to provide coverage through a benefits package. State and federal systems, such as Medicare and Medicaid, were also created to ensure low-income and seniors are protected with coverage. While these systems cover the majority of people, it still leaves a significant population behind. In a time where many people left their traditional jobs during the pandemic to work for themselves and pursue other passions, individuals who don't fall into one of those buckets are left to find health insurance coverage on their own and are at a higher risk of being uninsured. In fact, 11.6% of Nevadans remain uninsured.
Nevada Health Link is the go-to source for quality and affordable health insurance options for those who do not have employer sponsored health insurance and do not qualify for Medicare or Medicaid. However, unless experiencing a specific qualifying life event, the only time of year people can enroll for any reason is during Nevada Health Link's Open Enrollment Period, which runs from November 1 through January 15.
For the second year in a row, The Abbi Agency curated and launched a campaign to raise awareness about the 2023 Plan Year Open Enrollment to drive health insurance enrollments across the State. The integrated marketing campaign amplified communications efforts across all facets of marketing, while strategically targeting populations that are uninsured at a statistically higher rate.
The Abbi Agency built a detailed marketing/communications plan featuring:
New and updated creative campaign messaging that was tested on real Nevadans.
A strategic PR push to gain earned media around open enrollment.
Amplified community relations efforts to get enrollment assistants directly in front of the uninsured.
A redefined social media approach involving community partners.
Ongoing owned content such as blogs that provided enrollment resources and education about getting insured through NevadaHealthLink.com.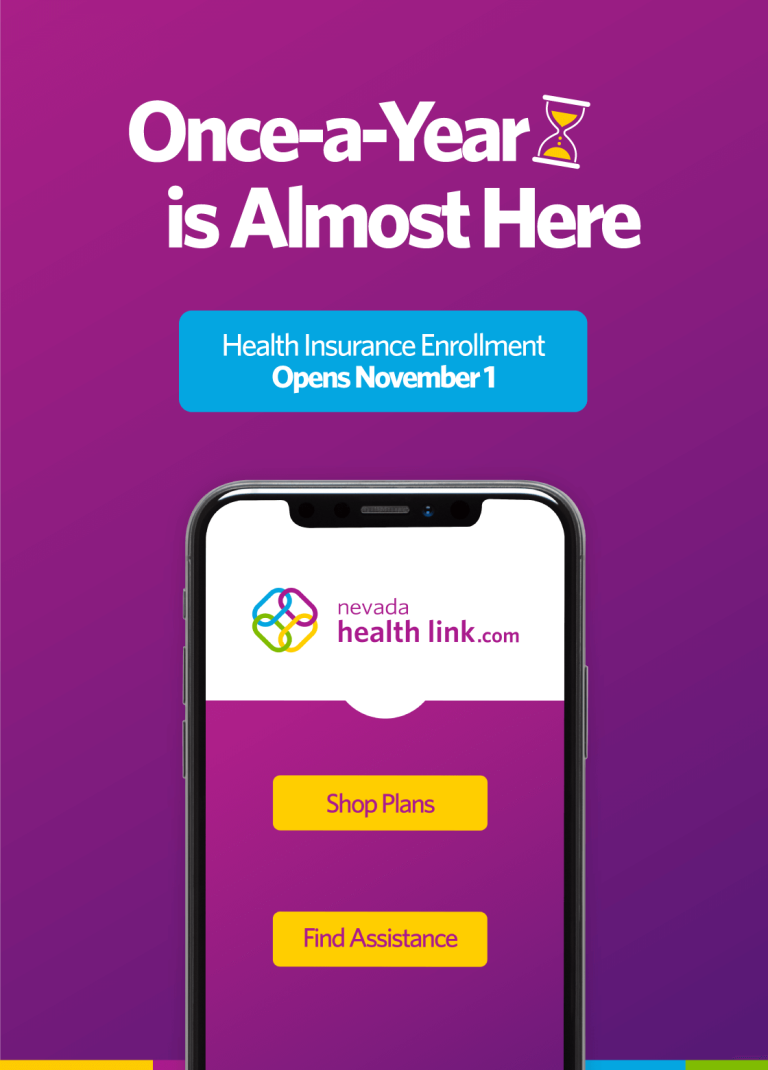 The Big Integrated Idea
With Open Enrollment starting November 1, 2022, the plan went into market on October 1 in preparation for the upcoming enrollment period, and ran through January 15, 2023. The plan had three main phases that mirrored the trends of the consumer decision making process:
01. Announcement/Education Phase (The Pre-Open Enrollment Window Shopping Period):  During this period, The Abbi Agency ramped up messaging to consumers to announce that they could begin the shopping process early by looking for plans on the marketplace and comparing rates. The Abbi Agency kicked off the announcement through a press release distributed on Monday, October 3 and announced through social media posts (transcreated in Spanish) to get the message out to the public. The Abbi Agency also updated all copy on NevadaHealthLink.com to announce the window shopping period and posted blog resources ("Here's How to Enroll") to help consumers shop. During this time, community relations events were scheduled at its peak for certified enrollment navigators to talk directly to consumers at community events. Targeted digital ads went into market on October 1 in English and Spanish with messaging about the upcoming enrollment period, encouraging consumers to begin looking for plans, compare pricing and see if they are eligible for subsidies to lower the cost of monthly premiums. The CRM tool was created and The Abbi Agency began growing the database of the uninsured, to reach these individuals during the enrollment period.
02. Awareness Phase: The Awareness Phase was defined as November 1 through January 1 to encourage Nevadans to enroll in plans. Starting Nov. 1, all creative/ads switched from window shopping messaging to the open enrollment messaging: "Our Plans are Made for Your Plans" featuring real Nevadans in all creative – created in Spanish and English. Open Enrollment kicked off with a press release and press conference in Las Vegas and was streamed to media across the state and Live on Facebook to the public. The in-person press conference was hosted at the Southern Nevada Health District with  a health fair to follow for the public to meet the insurance carriers offered on the marketplace. Community events continued, but at a slower pace as navigators were focused on helping enroll people. Social media was a strong avenue we used to increase awareness about open enrollment and leveraged connections with local organizations, such as the Northern Nevada Food Bank and the LGBTQ+ Center to amplify the message through Facebook live streams with a series titled, "Nevada Health Link Live."
03. Urgency Phase: Targeted outreach was crucial during the Urgency Phase, which is defined as the last two weeks of open enrollment (from January 1 through 15). Nevada Health Link sees the highest volume of consumers enroll in the final 14 days of Open Enrollment, so The Abbi Agency ramped up messaging and a final push across all channels. A countdown was featured on social media and the website and a strong PR push during the last week of Open Enrollment led to 44 individual media placements announcing the final deadline, including 5 op-eds placed in local newspapers in media across the state (Nevada Current, Reno Gazette Journal, Elko Daily). Paid media ads increased during this time and blogs were shared on NevadaHealthLink.com pushing for the importance and value of being insured.
In conclusion, NevadaHealthLink.com saw its second highest enrollment period to date of over 96,000 consumers, which comes out to about 25% of the state's uninsured population (364,000 uninsured). Overall, the work done on this campaign was robust, strategic and led to the success of getting more Nevadans to take advantage of affordable and quality health insurance. Most importantly, now nearly 100,000 more Nevadans are covered, bringing Nevada Health Link closer to its goal of a fully insured Nevada.
Outcome Metrics:
PR achieved 184 media placements with 25 backlinks
Nevada Health Link attended 68 community events throughout Oct. 1- Jan. 15
33 million impressions and 550K clicks on digital ads
Social media garnered over 2.7M impressions and 188K engagements on posts.
The Customer Relationship Management tool grew to over 130,000 uninsured Nevadans
Paid Media efforts accounted for 33.4% of the web traffic