Explore Murrieta
How Murrieta Became California's Base for the Bloom
Services
Creative Concepting and Production
Landing Page Development
Copywriting
Social Media
Campaign Launch
Superbloom Superheroes: Not All Heroes Wear Capes
After receiving an abundance of rainfall over the past year, the gorgeous wildflower superbloom returned to the California hills for the first time since 2019. Even though it's an amazing sight to see, the last superbloom was cut short due to large crowds of visitors trampling the wildflowers and causing traffic congestions. With this in mind, we set out to showcase the breathtaking phenomenon of the super bloom, all while promoting sustainable travel practices and positioning Murrieta as the central hub to stay, visit and experience the bloom.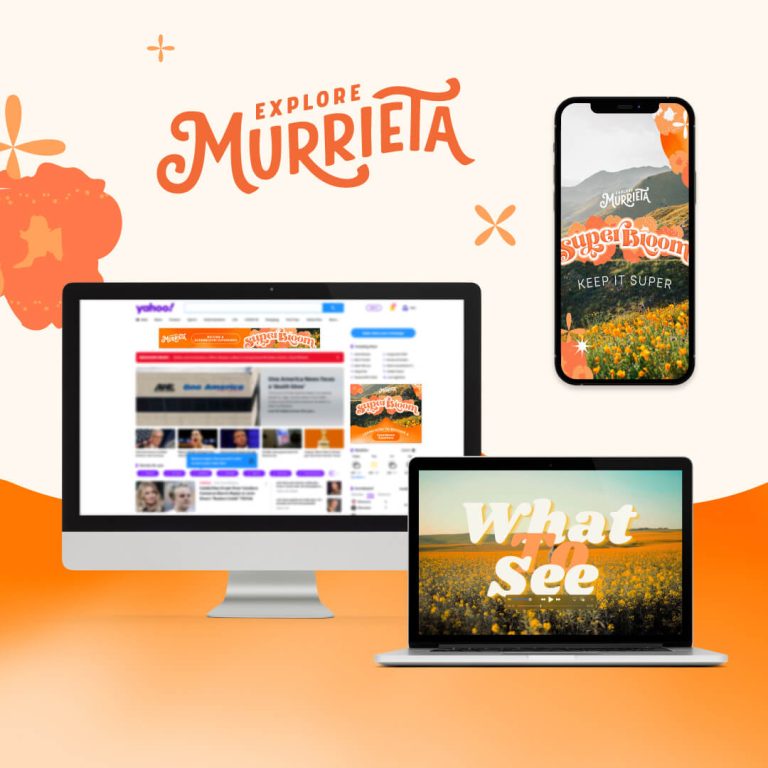 The Big Integrated Idea
We knew we needed to keep the campaign as super as the bloom. Our goal was to inspire travelers to witness this rare and natural wonder while educating them about the importance of preserving the delicate wildflowers. With careful planning and creativity, we designed an integrated marketing campaign that utilized creative, social, pr initiatives, web and blog content to maximize visitor reach and engagement.
Through captivating images and engaging story telling, we captured the essence of the superbloom while maintaining a sustainability message that included:
Snapping Responsibly
Staying on Marked Trails
Watching Your Pets
Discovering the Paths Less Traveled
Learning About the Area and Flowers Before Heading to Experience the Phenomenon
Supporting Local Businesses While Exploring the Blooms
Our campaign maintained a consistent message and branding across all channels, ensuring that our target audience received a unified and memorable experience. From social media posts, to blog content and paid media efforts, the campaign's messaging consistently communicated the core values of Murrieta, making a lasting impression on visitors.
We then completed a collaboration with a California Sustainable Influencer, Delilah Isabel (@delilah_isabel) to help Explore Murrieta promote awareness and sustainability for the Superbloom. This content elevated the campaign and gave additional exposure to Explore Murrieta.
Central to our marketing strategy was positioning Murrieta as the perfect gateway to the superbloom experience. We utilized social media, influencer collaborations and PR efforts to highlight the city's location, its access to nearby areas where the superbloom naturally occurs and its budget friendly accommodations. By emphasizing Murrieta as a base for superbloom exploration, we aimed to extend the economic benefits of staying in town while encouraging visitors to respect the region's natural beauty.
Overall, the campaign blossomed just like the wild flower-studded hills of California. We successfully captured the beauty of the superbloom while promoting sustainable travel practices. By showcasing Murrieta as an ideal base for experiencing this rare phenomenon, we aimed to create a positive impact on the environment and community. Through educational and inspirational content, we hoped to cultivate a deep appreciation for the superbloom and encourage visitors to implement these sustainable practices so that we can preserve this rare natural wonder for generations to come.
Social Metrics
We saw a significant boost in overall engagements (17,854) and impressions (159,440); and GIPHY views totaled over 90K.
SEO Efforts
We implemented a SEO driven strategy capitalizing on superbloom keywords to drive Explore Murrieta to rank high during this topically relevant time.
Superbloom blog was updated to include the sustainable messaging and used identified keywords and included relevant additional content.
Landing page was developed with SEO in mind, for example inclusion of metadata, tags, keywords, good link practices, and the user experience at the forefront.
We used those keywords to drive Paid Media efforts, so those were infused into our Google SEM campaign for the Superbloom.
Paid Media Metrics
Landing Page Visits: 22,236 (at $0.20 each)
Click-Through-Rate: 3.20%
Influencer Collaboration Results
We garnered over 6,000 views through TikTok and over 1,000 views on YouTube