HENDERSON ECONOMIC DEVELOPMENT
A WELCOME BEYOND HOSPITALITY
Services
Research & Strategy
Creative Development
Public Relations
Media Buying
Website Development
Content Development
Catalyzing a culture of opportunity in Southern Nevada
As the economy of Nevada has boomed, the state has become known for its business-friendly environment. However, a myth has remained, one maintaining that the only industries thriving in the state are those in the hospitality category.
For many corporate relocation specialists, a Las Vegas zip code doesn't suggest business opportunity, but rather unparalleled hedonistic fun. A less-than-ideal image for many companies considering expansion.
The City of Henderson, adjacent to Las Vegas, despite ambitious efforts to grow and diversify its economy, found itself struggling to rise above its famous neighbor's rambunctious reputation and convince new enterprises of Southern Nevada's worthiness as a potential home.
Recognizing the need to shake free and dramatically differentiate itself, Henderson retained The Abbi Agency to unearth its more-meaningful identity and articulate it in ways that changed minds, inspired inquiry, and opened new eyes to Henderson's can-do potential.
The Big Integrated Idea
The Abbi Agency implemented a uniquely focused research endeavor that took a deep, holistic look at the perceptions and competitive landscape within the economic development industry. This effort included primary research, secondary research, media interviews, and lead analysis. From that came the understanding that Henderson had two large perception problems. First, it was seen as a city "where old people go to retire" and second, as stated earlier, it was situated next door to the city known worldwide as the capital of unbridled pleasure.
Henderson needed to connect with and clearly express its differences and intentions. To tell the region, the nation, and the world that it had something special to offer.
Thus was born a new Henderson brand, one voiced by the line "A Culture of Opportunity." This mantra was pushed out via a national print campaign and a lead-generation and content-marketing effort wherein leads are captured through a newly implemented CRM. It positioned Henderson as a forward-thinking and agile economic development wellspring, a city offering vast access to land, a business-friendly city government, and when appropriate, the world-class assets of Las Vegas.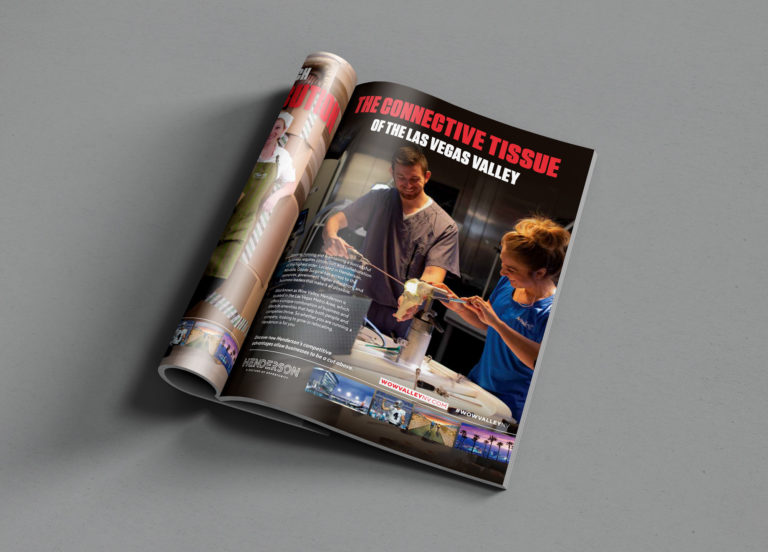 At last, the right kind of attention
Within 12 months, our work garnered numerous qualified leads and elevated Henderson's stature with the opening of the Google Data Center and the Vegas Golden Knights' practice facility. Website use increased 10-fold year-over-year and national headline news in the Wall Street Journal further bolstered the city's business-ready reputation.