Carmel-by-the-Sea
A Coastal Grandmother's getaway in Carmel-by-the-Sea
You don't have to be a grandmother to be a Coastal Grandmother.
It's no secret that TikTok has rapidly become the fastest-growing platform—not only for consumers, but for marketers as well. With GenZ making up 60% of TikTok's audience, the platform engages a generation that controls $143 billion in spending power and uses social media as their main source of travel inspiration—enabling brands to target a younger audience in new and innovative ways.
With authentic content pumping through its algorithm and incredible organic reach, TikTok serves as a perfect medium to share a destination's ethos. TikTok's short-form video provides an immersive experience to the viewer, sparking inspiration for potential travelers and in turn, providing an opportunity for destination marketing organizations (DMO) to reach previously untapped potential visitors.
To no one's surprise, trends on TikTok trends continue to surge. One of the latest being the "Coastal Grandmother" term, coined by none other than @lexnicoleta. With "Coastal Grandmother" receiving over 2.2 million views on the social media platform, the trend focuses on an aspirational lifestyle inspired by the early 2000's Nancy Meyers movies: cozy interior design, classic personal style, and romantic hobbies such as afternoon teas, book clubs and trying new recipes. The term has garnered coverage from Good Morning America, The Today Show, Wall Street Journal, Paper Magazine and more. Even Nancy Meyers and Diane Keaton themselves approve.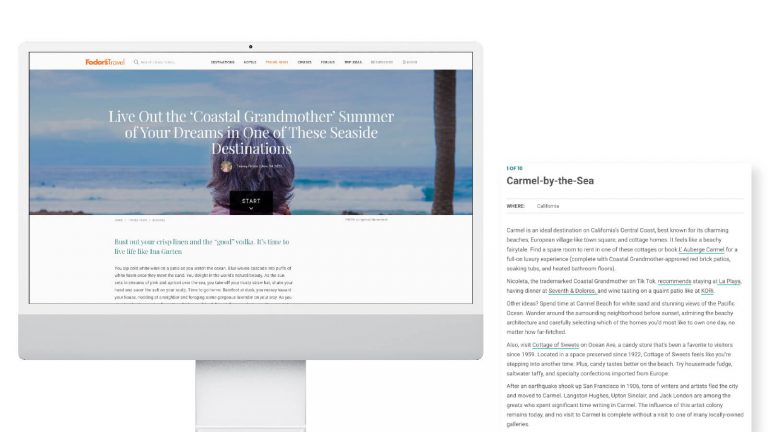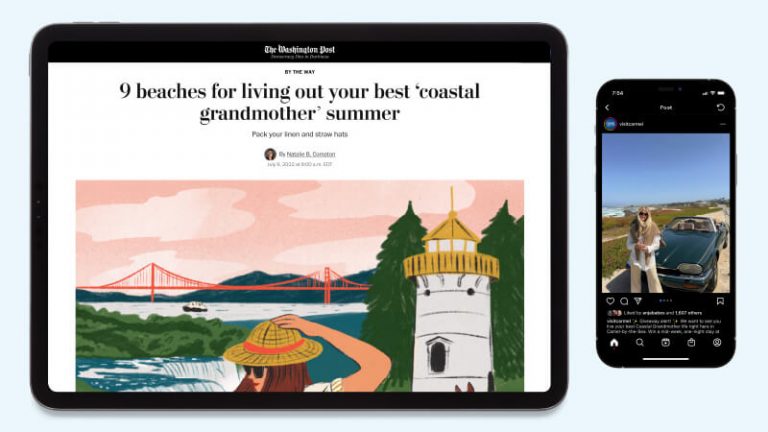 The Big Integrated Idea
Post pandemic, The Abbi Agency worked quickly and strategically to set Carmel-by-the-Sea apart from every other West Coast destination as travel was on the rise. With DMOs everywhere working to generate visits and gain attention from shared audiences, we recognized the viral trend taking over both the social media and PR spaces. Carmel-by-the-Sea truly emulates the Coastal Grandmother trend, thanks to the luxurious coastal aesthetic and classic California vibe. We jumped on the opportunity to invite Lex for a Coastal Grandmother's Getaway, with the goal of targeting a new audience (GenZ) and bringing more eyes to the brand.
In doing so, we were the first destination to host the Coastal Grandmother for the itinerary-style partnership.
In addition to a focus on TikTok, we brought the initiative to Instagram, the destination's most engaged audience on social media. By hosting a giveaway in partnership with Lex Nicoleta and Inns by the Sea, we were able to bring the Coastal Grandmother campaign to a secondary audience at the perfect time—if we do say so ourselves; the giveaway launched right before Mother's Day weekend.
Numbers to make Nancy Meyers proud.
Social media saw incredible results from the influencer partnership. Lex Nicoleta's loyal audience loved her content—her three videos, all of which mentioned Carmel-by-the-Sea, received a combined 152,800 views on TikTok. In total, Lex received over 17,000 engagements on TikTok. In the three months following the partnership, Carmel-by-the-Sea's TikTok platform saw an increase of 1867% in follower growth.
On Instagram, the giveaway reached more than 25,000 accounts (almost a quarter of which were non-followers) with 2,000 engagements, leading to 470 new followers that month. This contest received the most comments out of all posts in 2022, and the third most top-performing post in driving profile visits for Carmel-by-the-Sea.
The strong social media content also generated earned media attention, with stories from Fodor's Travel, FOX News, and the Washington Post coming to life within three months of the partnership. Together, these articles received upwards of 295,000 coverage views among the top tier outlets.
To learn more about how we grew Carmel's Bay Area audience in a time when every California destination was striving for more awareness across the state, click here, or if you're a destination marketing organization interested in our work, download our travel tourism capabilities deck here.