Services
Campaign Concepting
Campaign Development
Paid Media & Optimization
Challenge
With a streaming landscape populated by an ever-increasing number of options, the show watching experience has never been more convoluted or confusing. With shows fragmented between Netflix, Amazon, HBO, Disney+, Peacock and numerous others, it is often difficult to even remember which platform offers your favorite show. Additionally, the ability to establish a dedicated community around a platform in such a competitive industry can prove to be difficult regardless of scale or reach due to the ever-evolving preferences, schedules and livelihoods of viewers.
Solution
Bingie.tv solves streaming challenges by unifying the best information into personalized, social channels where viewers can discover the best shows to watch while simultaneously enriching their viewing experience with conversations, community, and new discoveries. This, in turn, replaces the shallow interfaces of typical streaming platforms with a rich, rewarding, and social viewing community.
Via the app, viewers can take part in a uniquely-developed social platform in which they can share and connect over a streaming video experience. The platform allows users to review recently watched shows and movies, as well as develop a deep conversation surrounding content with other users. Beyond this, users can share their personal recommendations with individuals in their Bingie.tv social network, providing a human element to an increasingly segmented viewership experience.
Bingie.tv provides its viewers with the ability to join or build a community with social aspects, influence the experience of themselves and others in a more meaningful way, and waste less time searching for the next great discovery of binge-worthy content.
The Abbi Agency (TAA) knew they had to target two main goals in order to create an effective campaign. First, they had to increase the number of app downloads to widen the reach of Bingie.tv. Then, they had to increase the number of daily active users on the app by furthering engagement with current users through collections.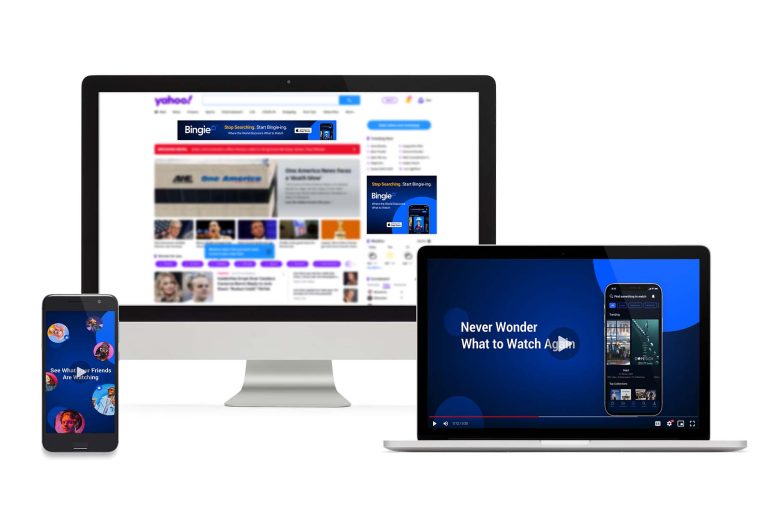 The Integrated Idea
The Abbi Agency developed strong, memorable, and creative messaging that would work across Paid Media channels to garner additional downloads and increased user engagement. Three separate and unique ad campaign concepts were developed, ultimately focusing on a 'Search No More' approach where viewers never have to wonder what to watch again. This highlighted the usefulness of the app and the problems that it solves for viewers, all of which are derived from its unvarnished, crowd-sourced opinions.
Upon successful development, TAA launched campaign assets across Digital Paid Media channels. This included promotion of the app on the following over the course of a five month period:
Google Search & Display
Facebook/Instagram
Twitter
Streaming Radio Podcast Prerolls
Amidst continuous monitoring and optimization, the campaign messaging kept focus on the following messaging & insights:
Never wonder what to watch again
There isn't anything like the Bingie.tv app on the market
It helps you discover new content & connects you with a larger community that shares your interests
It is about the content, but more importantly its about the community & meaningful engagement
Results
The Bingie.tv campaign was highly successful. Its Google campaigns resulted in 11 million impressions, more than 800,000 interactions, and 39,000 app installs with a cost-per-conversion of $0.41 and a conversion rate of 4.5%. The Facebook/Instagram campaign garnered 25 million impressions and generated over 39,000 link clicks, reaching 8 million users at a cost-per-conversion of $0.10. Twitter ads resulted in 40,000 additional clicks and 7.5 million impressions at a cost-per-conversion of only $0.08. Finally, the Radio campaign on iHeartRadio generated an additional 375,000 impressions. In total, the campaign tallied 43.5 million impressions and 117,000 app clicks in total.