Home Growing an Award-Winning Travel Campaign in Nevada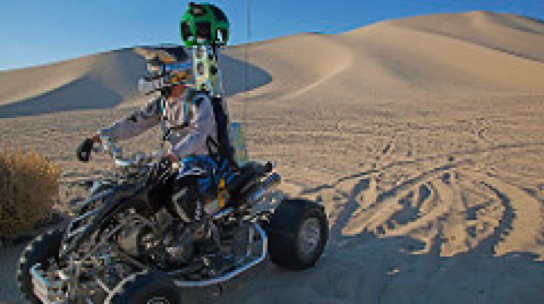 Within today's world of social media, the prevalence of digital ads are growing astronomically, forcing destinations to find ways to separate themselves. How is this possible? The key to success is identify the need of your destination and then find a unique, creative concept that solves it. The Abbi Agency took on the task with the Google Trekker Launch for our client, TravelNevada.
For those who do not know, Google Trekker is a program that uses Google Street View technology to map backcountry that is not accessible by vehicle, like The Grand Canyon. The state hires people to walk around with the Google Camera system—the same camera you see on the Google Prius driving around town—mounted on their back.
The Need
Due to its rugged terrain, most of Nevada is not accessible to vehicles. Fortunately, 80 percent of the land is owned by the government, making Nevada a unique destination with unique challenges.
Not to mention, Google Trekker is not a new technology. Plenty of other states have had their backcountry "scanned" into the Google Map infrastructure. That begged the question: How could we make someone walking around in the wilderness with a backpack that looks like it came out of a movie by Christopher Nolan stand out?
Creative Concept
Instead of having the state hire someone, we contacted local experts to carry the trekker around. Rather them just traversing the land, we wanted them to lend their unique voices by sharing their trekking story. They then documented their journey of carrying the Google Trekker Backpack through the wild west. At the end, each expert added a personal touch, telling personal stories about the land and what it means to be a Nevadan. These came across not only through words, but also through original content like photography and video.
The elements of this campaign came together to support TravelNevada's tagline: "Bring home more stories than souvenirs."
Through this creative output, we developed three key messages that required capturing:
TravelNevada markets the state through the use of innovative technologies and key partnerships.
Ease of getting around within rural Nevada.
Unique people that embody the spirit of a true Nevadan.
Coverage
The goal of the campaign is to gain awareness of the unique approach we took highlighting TravelNevada as innovators in travel.
How did we make sure the story gained coverage?
First, our partner agency, Fahlgren Mortine, developed a microsite that contained all of the user generated content, linking points on a Google Map to the personal narrative of each of our experts. To develop and polish each narrative, we worked with TravelNevada's content team. The creation of the microsite established a location to which we could funnel engaged users. Working hands on with the client and our storytellers added great value to the campaign.
Second, we took a strategy from the traditional public relations playbook and flipped it – tapping into the power of the press conference.
Normally, press conferences are used for breaking news, crisis communications or business announcements. We decided to take a risk and announce our Google Trekker campaign in this way because we knew we would have to do something out of the ordinary to drive major results for our extraordinary destination.
We gathered our expert Nevadans, an engineer from Google, and the Trekker backpack itself for a reveal of this campaign to a room packed full of people: media, elected officials, community members, the list goes on!
In the end, it was a perfect culmination of all the efforts with the TravelNevada team and Fahlgren Mortine.
Result
Through our creative efforts with TravelNevada, Google, Fahlgren Mortine and our local experts the story gained so much traction that the local broadcasts were picked up by affiliates across the nation as far away as Miami. We effectively reached our goal of highlighting TravelNevada as innovators in travel by leveraging storytelling and an uncommon approach to what we might otherwise The Abbi Agency also went on to win an American Advertising Federation Award and a Public Relations Society of America award from our regional chapters.
This story-driven, content heavy campaign was able to highlight and satisfy the needs of our destination, while staying authentic to the people and stories of Nevada — as well as the expectations of our client.
Coup De Gras
So, how can you take all of this information and put together an award winning campaign? Let this list be an introductory guide:
Start local
Collaborate with your client
Don't just assume or follow "me marketing"
Remember to educate
Successful travel campaigns start locally. Again, successful travel campaigns start locally. The locals are your ambassadors, if you are portraying an image or message that does not resonate with the culture of the destination or the people in it, then your campaign won't gain traction.
Trying to create an innovative travel campaign takes collaboration. Your client can provide insights to your region that you might not have seen before. They need to be your biggest advocate throughout the whole process. Through collaboration, you gain trust from your client.
Remember the old saying, "If you assume, then it makes an ass out of you and me?" The same applies to destination campaigns. This is what we call "me marketing" when you are thinking about why would you travel here. It is safer to not assume that you know the audience, but go out and gain insight. Understand what they like or dislike about your destination. This gives you the proper heading for your campaign.
It is important to educate the locals of your campaign. People are going to ask about it before they visit the website or look at your social media pages. So, when they are asked they can respond with authenticity.
Marketing consultant and popular TEDx speaker Simon Sinek said, "People don't care about what you do, they care about why you do it." Show why your destination is unique, not just what your destination has to do, see and buy.
Related Posts