Tips for Working in Startup PR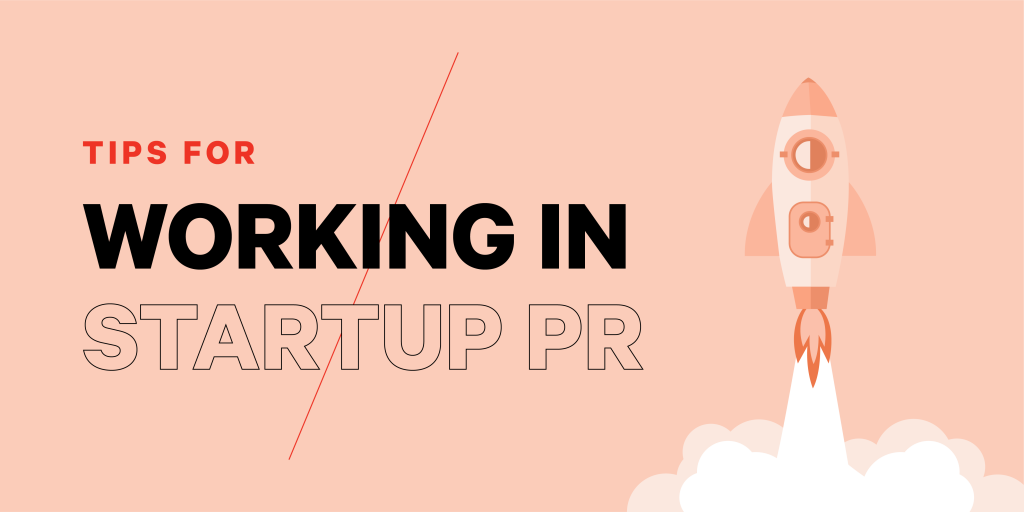 Working in the startup world is a competitive yet highly rewarding industry. Startup businesses across the country have revolutionary ideas to help our society for the better – whether it be in healthcare, technology, finance, education, or sustainability to name a few. The startup industry has been rapidly expanding for several years, accounting for more than 2 million jobs in the U.S. in 2015 alone according to the U.S. Census Bureau, while the U.S. Small Business Administration reports that there were 30.2 million small businesses operating in the U.S. by 2018. With the ever-growing nature of startups and a wide variety of these businesses popping up all over the world, the competition can be fierce, and name recognition and reputation is vital.
Public Relations is an invaluable asset to startups, especially in their beginning stages and also as they pursue growth to help boost brand awareness, authority and trust. Throughout our work with different startup clients, we have become intimately familiar with the ins-and-outs of startup PR and have learned the best practices for strategic communications in this industry.
Find your company's story. What problem is your startup trying to solve? What solutions does your company bring to the table? Keep in mind: it is vital to think about how you fit into the solutions for the problems your customers are facing in the industry as a whole. Understand what motivates your audience and do thorough market research to discover how to reach them best.
Know that media interest will be different for early stage and working stage startups. Unless there is especially innovative and breaking news, journalists in the startup space typically prefer to cover startups that have a working stage product. During this stage of your company, you will have the ability to show commercial viability, interest and real-world impact. If you don't have a product on the market yet, talk about the problem you are addressing in order to build awareness for your company in relation to that problem.
Tune into relevant news stories, especially for 2020. There is a lot of urgency right now for companies to join in on conversations about the COVID-19 pandemic, race relations and other hard-hitting topics. Make sure you are remaining authentic and have something to truly add to the conversation, as the window of opportunity to jump in without "bandwagoning" is narrow. Be sensitive to the current news landscape. If you can connect your product to society's changing lifestyle or behavior is changing, that is a great way to pitch.
Critically think about what media coverage is really best for your startup. It is tempting to want to aim for large national publications, such as The New York Times. However, even though the publication may be the "best" in the national space, it may not be what your target audience is reading. For example, if you're targeting an IT professional, they will more likely be reading a specific trade publication. As stated above, do your research into what your audience is reading. As an added bonus: once you have coverage in other publications, especially trade outlets, can help you gain the credibility needed to get into a national outlet.
Company milestones are important, but think beyond those milestones for news stories. Consider what you are going to do to keep the news momentum going when you don't have a company milestone to celebrate. Think about how you can be a helpful resource to a reporter beyond one-off topics. How can you cede your narrative and plug into the challenges your industry is facing day-to-day to become an expert resource for journalists? Quick tip: thought leadership and bylined articles by your startup-affiliated experts are an excellent way to go during this time.
Gather genuine customer case studies. According to startup journalists, customer case studies are the "gold mine" from a business-to-business and business-to-consumer perspective. Use them to build relationships and obtain that third-party validation, as your customers are the best proof for why people should be paying attention to your company. Additionally, journalists will often like to talk to customers directly.
Conduct media training, especially for startup employees who may not be familiar with media best practices. Your C-Suite team members are more than likely going to be the best media spokespeople for the company, so ensure they practice and always consider the top three things they want to say to a reporter.
Leverage your startup's CEO and/or founder. Startup journalists prefer to speak directly with company CEOs and founders, as they can personify the vision and tell the story in a way that conveys that passion.
If your business has any famous or notable investors, leverage them as well. These individuals are great for product and company third-party validation. However, while they may help the story get attention, them alone will not sell the story of the company. Journalists are more interested in speaking with company CEOs and founders.
Remember that authenticity is always the most important factor. Journalists can see right through fakeness. Encourage everyone at your startup to stay true to themselves and true to the company's mission.
You can learn more about our work as an integrated marketing agency and our experiences with our diverse portfolio of clients at theabbiagency.com/work.
Related Posts