The Abbi Agency Unveils PitchTok: A Multimedia Marvel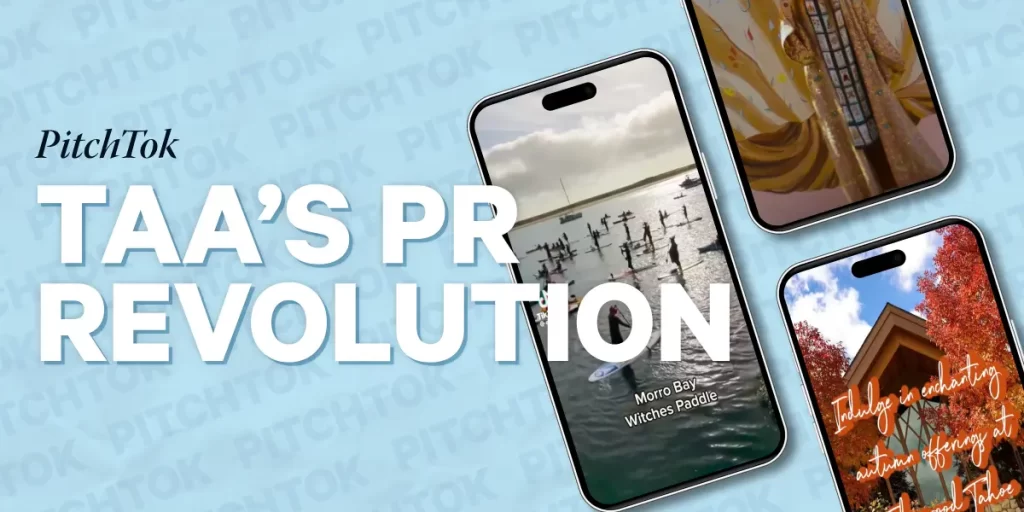 Public relations used to be all about press releases and cold-calling newsrooms. But in a world where cat videos go viral and TikTok dances become global sensations overnight, it's clear that traditional methods just won't cut it anymore. Enter: PitchTok, a brainchild of The Abbi Agency that revolutionizes the way we do PR in a digital age.
Imagine sending a pitch to a journalist that's not just words on a screen, but a captivating, multimedia experience transporting them to a world of adventure and excitement. That's exactly what PitchTok does. It takes the structure of a TikTok trending video and turns a standard pitch into a whimsical, aspirational and short-form travel guide. It's like inviting reporters to embark on a virtual journey that leaves them craving more.
But what exactly is this magical PitchTok, and why is it causing such a buzz in the world of public relations? Let's break it down.
The PitchTok Revolution
In a world where 44% of journalists feel that companies share information in an outdated way, it's clear it was time for a facelift (or in my case, a little botox 💉). That's where PitchTok comes in. It's not your grandma's press release; it's a dynamic, interactive and eye-catching way to engage with journalists and influencers.
Imagine receiving a pitch that's not just a block of text, but includes photo galleries transporting you to stunning locations, videos that let you feel the wind in your hair and the sand between your toes, graphics that weave a visual story, and audio that immerses you in the sounds of a bustling city or the tranquility of a remote island. It's a sensory experience that goes far beyond words on a page.
Why PitchTok Works
A recent study by Next Vacay found that prospective travelers use TikTok as a tool in the trip planning process. In an interview with Travel and Leisure, a Next Vacay representative explained that "searches for 'travel TikTok videos' have soared by 350%… travelers are turning to the viral social media app for travel inspiration, unfiltered advice, and genius travel hacks."
Just as travelers are changing the way they find trip information, journalists are changing the way they receive information.
The Abbi Agency understands that multimedia is the name of the game in today's PR landscape. We're harnessing the power of visuals, sound and interactivity to create an irresistible pitch that journalists can't resist (or so we hope). It's not just about conveying information; it's about creating an emotional connection between journalist and brand, providing exposure to a destination as a short-form video.
This type of short-form video pitch can be used in a variety of ways and at varying stages of interaction with a journalist. You can use it as a welcome message to introduce yourself and your destination to a journalist, you can create a visual itinerary to entice a reporter to come on a FAM trip, or you can strategize a unique pitching angle and interview a source for a taste of what the reporter might get in a longer-form interview.
A PitchTok to Remember
So, what makes a PitchTok pitch truly unforgettable? It's all about the art of storytelling. It's about taking your audience on a journey, igniting their wanderlust and leaving them with a burning desire to explore the world. It's about captivating their senses, engaging their emotions and making them feel like they're part of the story.
This type of immersive content emphasizes key destination drivers, such as arts or culinary, to tell a character-driven story or inspire practical trip planning. In turn, the content will share an area's history, events, fun facts, must-see sights, top-tier restaurants, wellness experiences, local galleries and art, and more—therefore encouraging exploration while in-market.
In a world oversaturated with digital noise, a multimedia approach like PitchTok allows you to stand out authentically. It's not just about getting coverage; it's about inspiring your audience to take action.
Pioneers of PR Innovation
In an ever-evolving PR and media communications landscape, our quest to turn the traditional pitch on its head continues, as we consistently look for creative opportunities that leave journalists and influencers clamoring for more.
So, the next time you're thinking about how to capture the hearts and minds of your target audience, remember the power of PitchTok. It's not just a pitch; it's an experience. And in a world where attention spans are shrinking, experiences are what truly matter.
Wanna work with TAA's media masterminds?
Let's chat (no selfies necessary).
Related Posts