Reaching the sky's limit: Why this year was the best lift-off at the Great Reno Balloon Races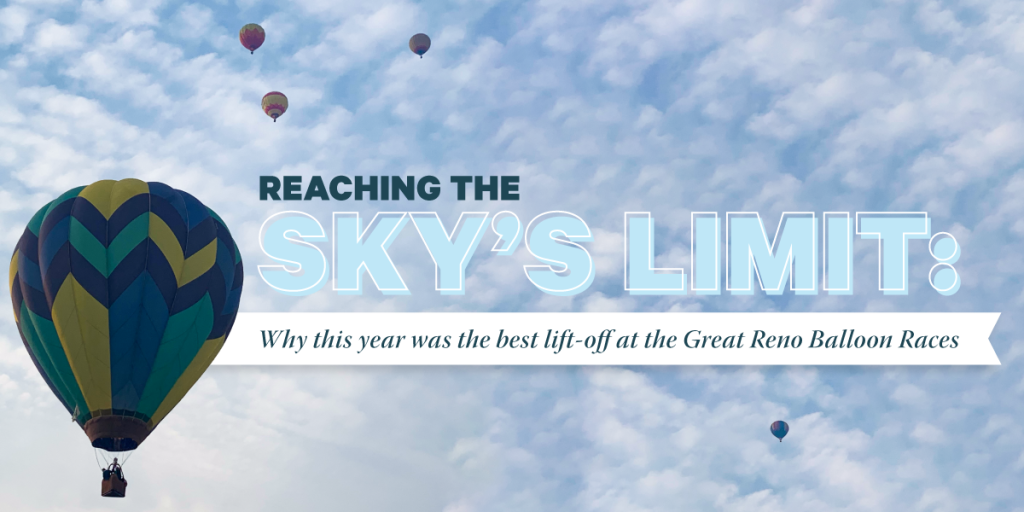 While the rest of Reno's skies were in smoke, San Rafael Regional Park was bursting in color during this year's Great Reno Balloon Races, Sept. 9-11.
From Darth Vader to "Puddy Cat", and an Armadillo cowboy — The Abbi Agency has been reaching new heights at this event for the last six years, welcoming more pilots and spectators to the beloved, longtime local event as The Biggest Little City continues to grow.
The smoke and wind didn't cease the buoyancy of these hot air giants. Despite it all, the 41st Anniversary of the Great Reno Balloon Races turned out to be a blast and a new experience for many of us; some of us even took flight in a hot air balloon!
We've supported this event for the last six years but here's why 2022 was the most memorable for TAA out of all of them.
Smoky skies don't stop Reno
One of the caveats of living in the high desert are wildfires. It's quite common for smoky skies to hit Reno in the late summer due to wildfires in California, and the heatwaves that come with it.
But that doesn't stop the Reno community from taking great delight in one of the city's longtime running traditional events. Although the smoke and the wind delayed the races on Friday, many pilots stayed static on ground to show attendees how to use a hot air balloon, such as using the burner to generate hot air, and allowing the public to take pictures with the pilots from the basket.
Honorable mention: we feel #blessed for Thursday being the greatest day weather-wise for our local media and influencers. The sunshine beamed throughout the park with not a single cloud in the sky, endowing the most perfect day for Reno's public figures to truly experience GRBR.
In addition to local influencers, the agency also invited out influencers based in the Bay Area. This builds excitement within drive markets, allows followers to learn more about the event and plan their weekend trip to Reno. Working with other local clients, TAA was able to provide influencers a full Reno experience, including meals at The Village at Rancharrah and a visit to the exhibit Beyond Van Gogh: The Immersive Experience.
Every year, both GRBR and TAA raise awareness for causes such as wearing pink on Saturday mornings to represent Breast Cancer Awareness, and blue for Donor Awareness. This year's races also coincided with the 21st anniversary of 9-11; Sunday morning's memorial performance was somber yet peaceful as fighter jets bolted above two hot air balloons, waving the American flag in the hazy skies of daybreak.
The official rainbow of Fierce, Independent, and True
Did you know hot air balloons are large enough to jam 90,000 basketballs or 22 elephants inside?
Of course, that doesn't include the basket, but could you IMAGINE?
Faultlessly — and ironically so — TAA's sponsored hot air balloon was also dubbed Imagine, flown by pilot Zoe Swenson. Hailing from Reno with at least four years of experience under her belt, Swenson has been part of crewing GRBR since she was 8 years old. One of her favorite ways to connect with the community and youngsters is demonstrating how to light propane burners during static display — as well as giving her favorite agency a chance to soar the skies with her.
On Saturday, TAA's very own Kami Olaciregui and Kaycee Rechel from our Creative teams bravely took the chance to soar the skies in Imagine, as the weather was more ideal.
To ride a balloon has been on Kaycee's bucket list, especially as GRBR is one of her favorite local events.
"They say when you're up in the sky you're lighter than air," she said. "It was an amazing feeling, and the views were absolutely stunning. It was an experience I will never forget.
Kami said it's completely different from riding a commercial airplane — you're really surrounded by the clouds in the sky. She highly recommends others to take on the opportunity if they get the chance.
"Riding in a hot air balloon is a memory you'll never forget," she said. "The unique experience of being floated up into the sky makes you feel as though you are on a cloud with the gentle tranquility of air around you; a hot air balloon ride is nothing but serene and peaceful."
"Three, two, one…glow"
The balloon race started off with only 20 balloons when it began in 1982, including the Dawn Patrol.
As the event continues to grow and evolve, there is one thing that still stays the same: Ron Smith's powerful voice for the dreamy glow of the simultaneous lift-off of mass ascension.
For the last 40 years of the GRBR tradition, Smith has set the tone and narrative of the event as if you were roaming through a storybook adventure through San Rafael Rancho Park. TAA celebrated Smith's 41st anniversary by producing commemoration speech, along with GRBR honoring him with a plaque and bomber jacket as a way to forever imprint his name in one of Reno's most beloved outdoor shows. This year, longtime Reno news anchor Joe Hart joined Smith alongside at the podium this year to emcee the event.
If you have yet to experience GRBR, you might as well plan some time off ahead of next year's event. Sure, you have to get up at the crack of dawn and sit in end-of-summer chilliness, but to witness hot air balloons illuminate the morning twilight skies. Don't worry about breakfast — there are local donuts and a buffet at the event's pop-up VIP bistro, on top of a plethora of souvenirs to choose from along the Balloon Boulevard vendor strip.
If there's something important that we learned at the races this year, and every year, you never know where the wind will take you; whether you watch the races from outside your office window — or if a balloon happens to land in the cul-de-sac down the street — the adventure always ends up where it's meant to be.
Related Posts