Four MORE Ways to Approach Tech PR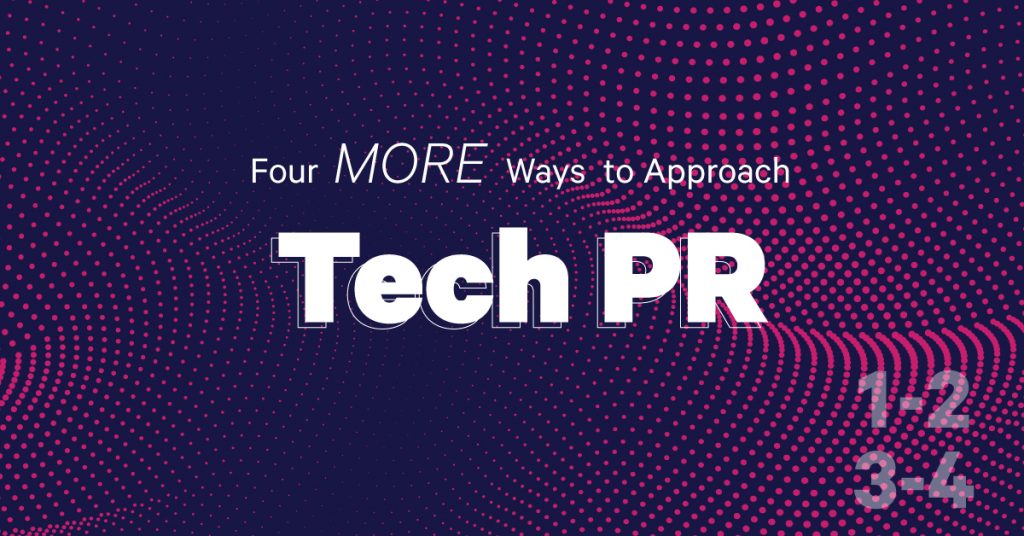 by Lauren, Alli, Dani, and Owen
Thought we were done? We were just getting started.
In case you missed it, we recently shared four press-worthy strategies to make headlines for tech PR clients, and we couldn't help but wrap things up with another round of wisdom – because let's face it, the possibilities are endless. Read on for four more ways to approach tech PR. 
Mergers & Acquisitions and Strategic Partnerships
The saying "you are judged by the company you keep" is especially true for tech brands. Company growth is often fueled through mergers and acquisitions as well as strategic partnerships. Utilizing public relations to draw attention to marquee acquisitions or partnerships underscores your positioning in the market and demonstrates to investors that your company continues to grow. Reporters are eager to cover business dynamics in the sectors they cover and M&A activity or new strategic partnerships are an important indicator of future trends. Companies can improve their brand by effectively using public relations to shape that media coverage.
Awards/Recognition
Brands can build credibility through national and industry specific awards for founders, key leadership, products and services. Brand credibility relies on consumers and whether or not they believe a brand has the ability, expertise and trustworthiness to continuously deliver on what has been promised.
Awards and recognitions are offered through many different organizations relevant in the technology space, including the Digital Impact Awards, AdWeek Best in Tech Awards and The Annual Crunchies Awards at TechCrunch. Recently, TAA submitted our client, SendCutSend, for a Fast Company Most Innovative Company Award and they were named among the top 10. This recognition heightens SendCutSend's brand, and makes the company more credible.
Adding Talent
The hiring decisions your company makes will define the future of your products and your brands. As you make key new hires, you can use PR to signal your future plans. This is true for all businesses, but especially important in the cutthroat tech world. Highlighting the top talent your brand is bringing onboard can underscore your market positioning compared to your rivals.
Product Development/Milestones – Product Architecture/Evolution/Lifecycle
As a brand in the tech space matures, innovators will find new ways to improve upon their offerings, or release new products to both retain existing clients and attract new ones. Decathlon Capital, a revenue-based financing firm that invests in growth-stage companies, sees this kind of expansion regularly. Take for example, Xoran Technologies Inc., a pioneer in medical cone beam computed tomography. They were expanding their product line, thanks to a multi-million dollar round of funding from Decathlon, and The Abbi Agency was able to secure a news placement detailing the new product through the lens of how Xoran planned to deploy their funding.
Whether you utilize all eight of the strategies we've highlighted or develop a unique approach, every tech company should think of PR as an important opportunity to serve your overall business goals. Effective PR strategy and execution will help you stand out in an increasingly competitive field.
Related Posts