Destinations Soar with Public Relations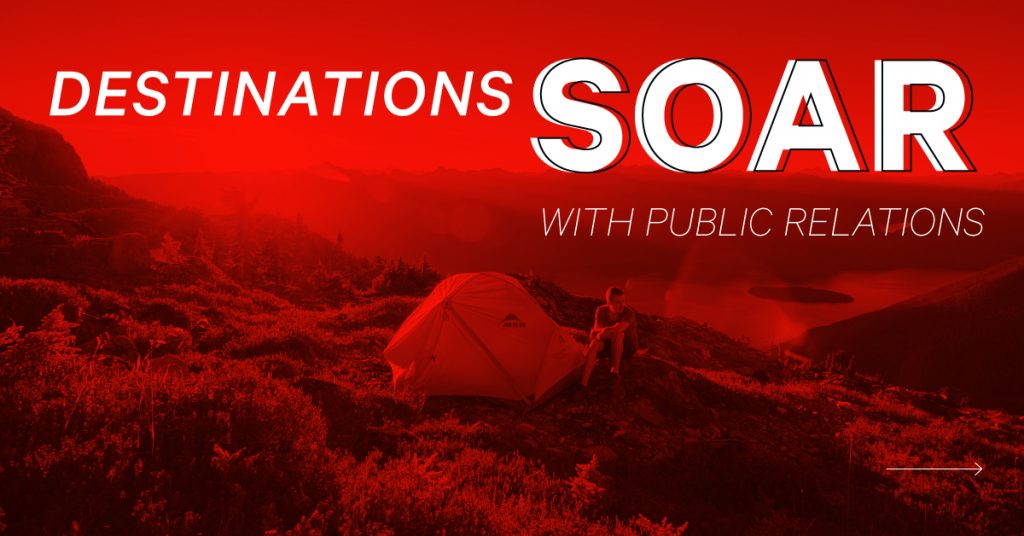 With more than a decade of specializing in travel PR, The Abbi Agency knows what it takes to land our destination clients in the right publications. As publicists, we must be prepared to think on our feet and pivot quickly to keep up with the trends and fast-paced travel industry.
Through hosted familiarization tours (FAMs), market research and targeted outreach, we develop strong relationships with journalists in order to identify story angles that reflect our clients' desired messaging. Understanding long-lead times and creating ongoing relationships is a key factor in securing positive coverage for our destination clients. In the world of travel public relations, we must understand the tourism trends and newsworthy angles to entice journalists to cover our clients' destinations.
Below are some of the "dos" and "don'ts" of travel PR. Working with a professional or agency ensures you follow these steps.
Do strategically position your client to publications that reach their target audience and demographic. Position your client to their intended audience by targeting outlets that will reach their demographic, not just a glossy magazine. For example, THE ROW Reno wants to establish itself as the venue for small to large-scale events and meetings in Reno. For this, our agency targets meetings and convention industry publications to offer readers insight on THE ROW's expansive space and service offerings. As a result, The Abbi Agency secured an interview for THE ROW's executive director of sales in Meetings Today to secure a story about what convention attendees can expect to do at the mega-resort the next time they visit  THE ROW for a business trip. 
Don't spend time pitching your client to publications/outlets that do not meet your client's target demographic. Quality over quantity matters when it comes to pitching.  Is your client's destination luxury, family-friendly, cost-effective or outdoorsy? While there may be some cross-over, don't force a destination into a story angle  it doesn't fit. When pitching your client, it will become clear to journalists if the destination is a fit or being forced. For example, our client Explore Murrieta, is a beautiful outdoorsy destination that positions itself as an affordable, family-friendly destination to local travelers. We would want to avoid pitching an outlet that only covers luxury, high-end international travel. Rather, The Abbi Agency secured a placement in Family Critic Magazine for a roundup of affordable family weekend getaways. 
Do your research. Trends are ever-changing in the travel industry – while road trips are on the rise in 2020 as pandemic restrictions begin to lift, what will be the popular tourism go-to six months from now? One year from now? Always keep a watchful eye for relevant shifts in your travel niche, from five-star luxury to rustic outdoors. Within those trends, leverage data and statistics to add extra validity to the story you tell about your destination in pitches, press releases and other media materials. The U.S. Travel Association is a great place to start, as the Association offers numerous market statistics and reports.
Don't lack creativity with your story angles. It's a publicist's responsibility to ensure that their client's brand messaging is newsworthy and timely when pitching journalists. Find opportunities to entice an audience to visit your destination at any time, not just during your peak season. A coastal beachfront resort still has potential for coverage outside of the summer season, so get creative! Is their year-round warmer climate ideal for a holiday in the sun? What about a fall-time wine tasting experience with a cozy feel?  For our client Carmel-by-the-Sea, we leveraged an annual event, Carmel Culinary Week, in January to entice its out of town visitors to enjoy coastal cuisine during an off-season. 
Do build a strong relationship with the journalist before hosting a trip.  Familiarization Trips (FAMs) are a great strategy to earn some major PR wins for your client. Media trips allow the writer to fully experience the destination first-hand to best translate key messages and the experience. However, it's important to ensure that the journalist is the right fit, and that you have a strong pathway of communication with them before they pack their bags. As their point of contact, you'll need to feel comfortable and confident every step of the way. Hiring a media professional can help you do this.
Don't pitch a media trip without including a solid storyline. Be sure that your journalists have all of the information they need to write a successful story. It goes back to ensuring the timing of your angle makes sense for the publication they write for – try to schedule their trip during a great event or set up an itinerary that truly gives them an immersive experience.
As publicists, we wear many hats when it comes to travel PR. We are travel agents, researchers, datakeepers, strategists, storytellers and much more. Keeping your client's vision, messaging and goals at the forefront is sure to lead to success.
Related Posts