Carpe Diem at a Pitch-Perfect PRSA Travel Conference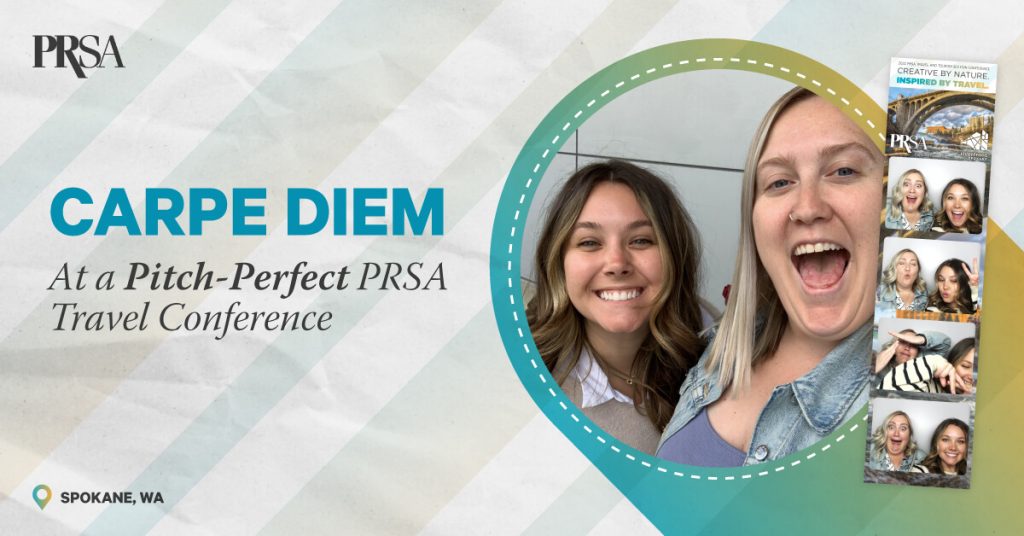 In May, we were #blessed with the opportunity to attend the Public Relations Society of America (PRSA) Travel and Tourism conference in Spokane, Washington. With keynote speakers such as country music star Jimmie Allen and New York Times bestselling author Cheryl Strayed, we knew we were in for a treat (and the Cougar Gold cheese was an added bonus).
But beyond the intimate concert, inspiring panel and delicious appetizers, we seriously walked away with new knowledge that sparked inspiration, creativity and, of course, passion for our industry.
Here are three key takeaways from this year's PRSA Travel and Tourism conference.
ABL: Always Be Learning
Continued education is at the core of any successful PR person's personal and professional development. At The Abbi Agency, we're always on the lookout for new tools, industry trends and knowledge of best public relations practices.
What better place to continue our PR education than at the PRSA Travel and Tourism Conference? If you think you already know everything there is to know about Travel/Tourism PR, let me tell you: YOU DON'T. This four-day conference was jam-packed with sessions led by industry pros including DMO (Destination Marketing Organization) communications directors, other agency PR professionals and even travel and tourism writers (yes, the very same ones us PR peeps pitch on a regular basis!).
Sessions included tips about utilizing the TikTok platform to your advantage, how to pitch travel media members who are part of the LGBTQ+ community as well as travel journalists with disabilities, utilizing measurement tools, crisis communications best practices, and the power of cultivating PR partnerships, just to name a few.
Through our sessions we were able to take away lessons and share the knowledge and tips with our PR team at The Abbi Agency to continue our overall growth within the industry.
Pitch It Like You Mean It
As PR professionals, we're constantly strategizing new ways to make our pitches stand out from the rest. When journalists are consistently being flooded with story ideas in their email, it's key to get creative and build intentional relationships with writers.
At the PRSA Travel and Tourism conference, we had the opportunity to really think outside of the box as sessions of live, in-person pitching took place to panels of top-tier journalists. While initially we had every intention of watching and learning from the crowd, a little voice in our heads (a voice with a crazy resemblance to Abbi Whitaker??) said "carpé freaking diem, girls."
So, we buckled up, mustered every ounce of courage we had and pitched in EVERY live session. We pitched individually, we pitched together and most importantly, we pitched creatively. While yes, it was nerve-wracking, we knew we had to take advantage of the opportunity for not only our professional growth but also for our clients. It was a rare chance to get our destinations in front of these panels, and we couldn't help but give it a go. And the best part? We caught major attention from the guest journalists, resulting in a number of leads and most importantly, new, valued relationships.
Networking Naturally
Ah, networking. Let's be honest, professionals either love it or hate it. When most people turn to small talk or coffee conversations, that's when networking becomes mundane or surface-level. Think of it this way: if you went on a blind date and they only talked about where they were from, would you stick around for a nightcap?
Networking is powerful when you make it meaningful. At the conference, we really tried to keep conversations authentic, letting our guards down to allow for personal connections. We asked questions that excited the other person, and showed interest in who they are versus what they do. Examples of this may include "How do you like to spend your Saturdays?" or "What's your favorite part of your day?" and allows for spinoff conversations to naturally come up.
It's also important to get creative and put yourself out there. For this conference, all attendees were hosted on a welcome app, Whova, that allowed us to create topics, message back and forth, and post photos of our journey. This gave the opportunity to connect and network with attendees before we even touched down in beautiful Spokane, Washington, and continue that conversion IRL at the conference.
At the beginning of the week, we didn't know what we were in for. By the end, we were stuffed with Cougar Gold Cheese (still drooling), made a ton of new connections that we continue to foster, and learned so much about the industry that we were able to bring back and share with the team. The value of attending the conference was priceless, and we can't wait to plan out our visit to the PRSA Travel and Tourism Conference next year.
Related Posts