Optimize Your Marketing Efforts – Insights from the Reno-Tahoe American Marketing Association's 10th Annual Workshop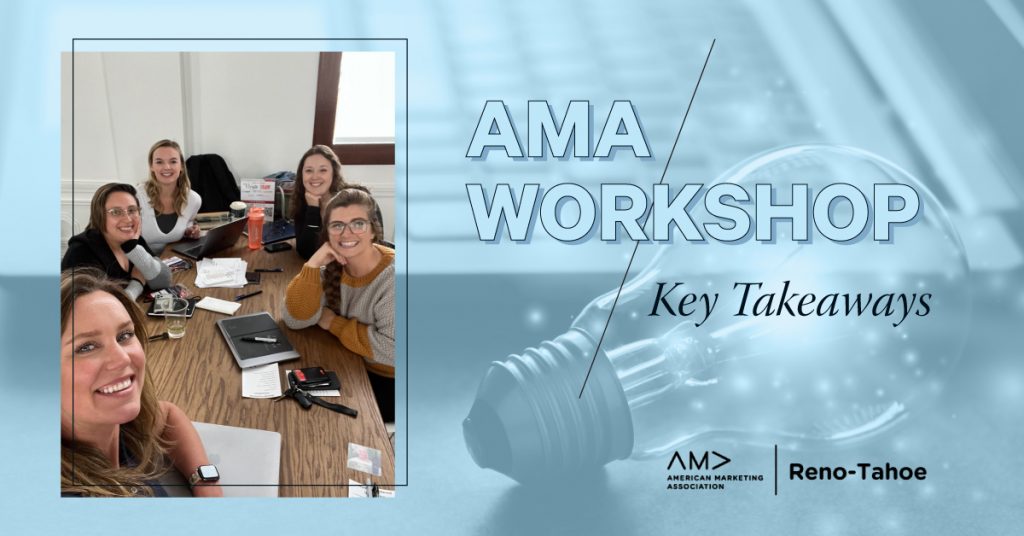 In April, the Reno-Tahoe American Marketing Association held its 10th annual Marketing Workshop in Reno, Nevada. The Abbi Agency (TAA) has a strong presence in Reno and a few of our team members attended the workshop. Continuing education is important to TAA and we love sharing new insights, best practices, and evolving methodologies with one another. In fact, we enjoy it so much, that we wanted to share the love with everyone! So here our team members share a few of their key takeaways they learned during the workshop.
Caroline Sexton
VP of Digital Strategy
There was a ton of great content there but in general the biggest takeaways I heard throughout all presentations were that we have to focus on people and use data effectively. As Michael Thomas quoted in his "Psychology of Selling" session, "How you sell matters. What your process is matters. But how your customers feel when they engage with you matters more." – Tiffany Bova, Salesforce. User experience (UX) has to be at the center of your users needs and your business goals for everyone to be successful.
The session by Joshua Schaap, also had a ton of great resources in it to help you think more specifically about articulating KPIs that support your the goals you are trying to achieve. Also, Courtney Merideth did a great job showing the evolution of branding and the customer experience!
Chani Knight
Brand Manager & Business Development Strategist
Mostly, I was reminded of the fact that while much has changed for the way that people consume media, much has also stayed the same – people are engaging with the same content as they did pre-pandemic, but their perspective and therefore their takeaways from what they consume have evolved. The same message is hitting entirely different even if our client's goals and general positioning have stayed the same.
For us, that means tracking how our messages are performing, how our target audiences are consuming them, and how we can get them to perform certain actions without fatiguing them is more vital than ever. And of course, this isn't new. But understanding our role as proactive leaders and staying at the forefront of the human experience and what marketing is being successfully (or unsuccessfully) perceived in a post-pandemic world is the key to our client's continued success.
Angela Rudolph
Digital Content Manager
There were many interesting insights during the four presentations from the Reno-Tahoe American Marketing Workshop but one that really stood out to me was the way in which online searches are changing. 50% of searches made on Google end without the user clicking onto a website. Ranking not just on page one but becoming one of the suggested answers from Google is more important than it has ever been before. I personally think the more human we can be with our online content, whether that is through social media posting and management, blog writing, copy on landing pages or via email marketing, the more useful and popular our digital content will be. Often Google searches now serve video content, direct links to music and podcasts, and even social media posts – whatever is going to be the most relevant and helpful to the end user, right up at the top of the search results page. Integrating the keywords that users are searching for across all digital content mediums is imperative to long term success.
Karen Morales
Jr. Brand Manager
The Reno AMA Workshop was very helpful to me as a newcomer to Marketing. While it covered different aspects of the Marketing world, the Psychology of Selling was what stood out to me the most. This topic touched on how we as humans use our emotions, logic and credibility to buy. Typically, the most successful forms of advertising are emotional ads; however, due to COVID-19 most people are emotionally exhausted, which makes emotional ads less effective. The advertising world is continuously changing, which is fascinating within itself.
Did any of this spark your interest? We'd love to hear your thoughts! Send us an email or subscribe to our newsletter in the footer below to stay in touch. And, as always, stay fierce!
Related Posts