Making Sure You Moved the Needle:
Some things to consider when doing audits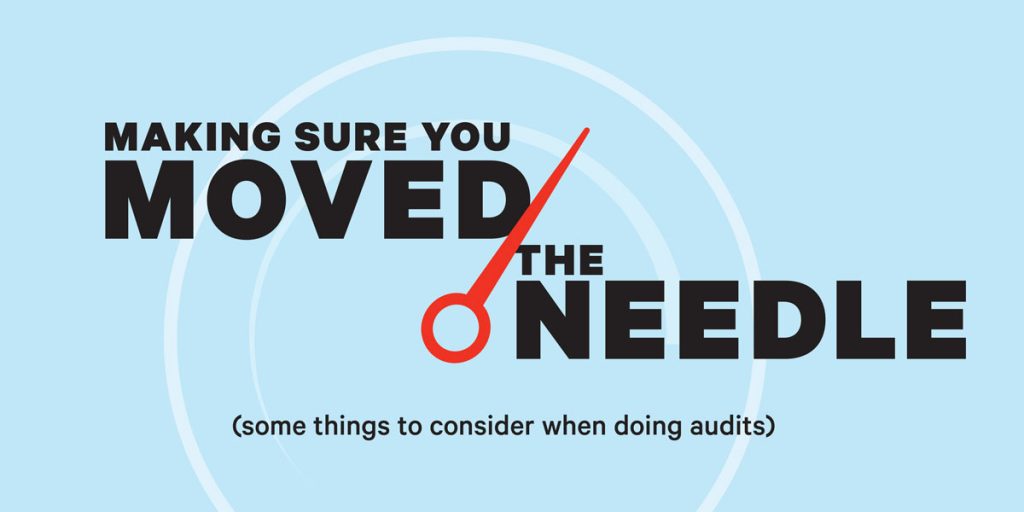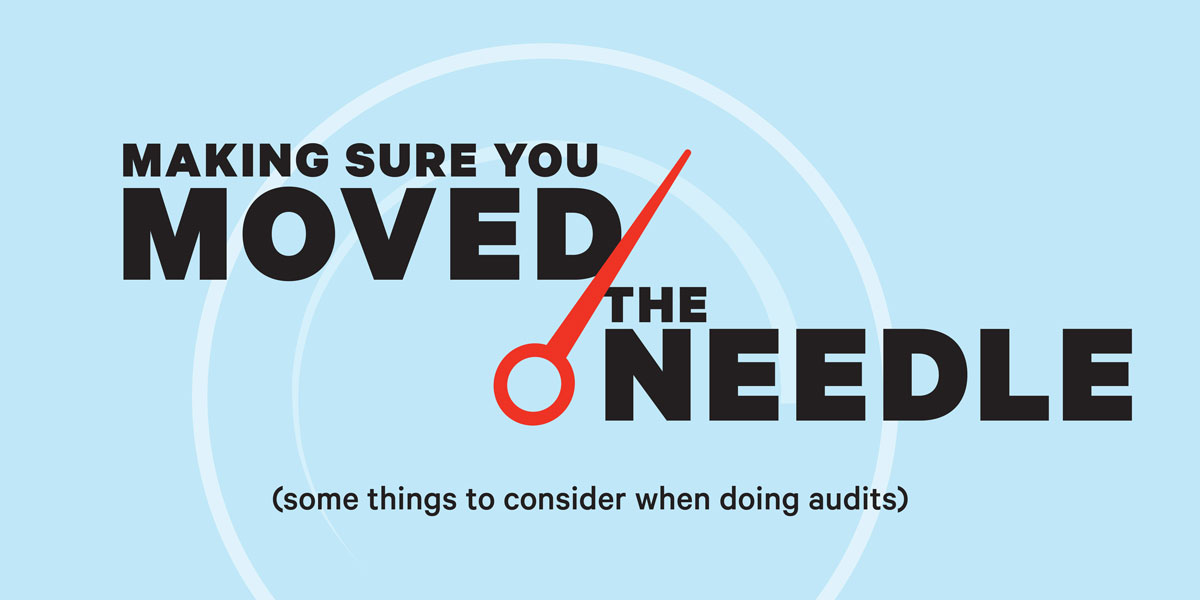 So, you've realized that your brand needs a digital experience update. Now what? First of all, you need to make sure that this update is meaningful—in other words, it's crucial that you update the areas that will make the most impact. Remember, you're going to be investing time, effort and money into this. So how do you do that? Well, keep reading, because we're about to do some educating.
Setting Your Goals
Now hold your horses, there are a few more preliminary steps to get through before you actually start updating anything. Your first step is to establish a strategy derived from your brand's goals. Not having a strategy will only cause your updates to be done in a haphazard and arbitrary fashion, and no one wants that. The best way to determine your brand's goals and strategies is through data collection and analysis which create a baseline for the current performance of your website/social media/paid media/etc. Enter: the audit. In-depth auditing is an essential part of making sure that your update is targeting the core issues that are holding your brand back.
Getting Into the Nitty Gritty of Auditing
There are so many types of audits that it can seem overwhelming. Don't worry, we're going to address some of the main kinds and the details you should consider when doing them.
Website Content Audits
If you look at your content and kind of go 'meh,' this one's for you. Content audits are all about identifying the weak points in your copy/content so you know which areas to target when you conduct your digital experience update.
Tone/Voice: This basic writing principle shows your customers/clients the character of your brand. Are you serious? Tongue-in-cheek? Assertive? Whatever you choose, check if it's consistent throughout your content. If the tone and voice are inconsistent and confusing, so is your messaging.
Length: Is your copy so long that no one reads it? Or, conversely, is it so short that it doesn't read as meaningful? There's a fine line between holding someone's attention and letting it slip between your fingers, and you must determine where this line is for your individual brand. More technical audit techniques can actually assist here—KPIs like bounce rate and time spent on a page can help you determine if your content is holding your reader's attention.
Gaps in Content: Your reader should consume your content and have their questions answered, at least to the extent that they continue to the next step of the sales funnel. When auditing your content you should ask yourself if a reader would have any lingering questions about your brand/service/etc. after reading it. If anything feels vague, fill in those gaps with more information. (FYI: These gaps don't need to be filled on-page, but can be supplemented using additional owned content mediums like your blog.)
Technical Audits
Talking about technical audits can get kind of… technical, but bear with us. There are essentially two parts of a technical audit: SEO and UX. Just as a quick refresher, SEO makes sure that your brand is appearing in your target audience's search results as much as possible, and UX optimizes the structure of your website to make it easy to navigate for users. If you're thinking, "well then why isn't it just called an SEO and UX audit?", that's because the foundation of those two things are found in your website's code.
SEO: SEO appears complicated at first glance, but it's less complex than it seems. When doing your SEO audit, you can pretty much go down a "checklist" of things that your website should have. First of all, check your site's speed performance. Faster load times lead to more conversions and higher rankings on search engine results pages (SERPs). No one likes a slowpoke. Second, make sure your on-page performance is up to par. This means making sure you have meta descriptions (and that they're well-written and informative) and schema markup that search engines can identify and use to rank your site higher. Schema includes H1's and title tags, which indicate what your site's content is about, as well as alt text and other accessibility tags that are needed for readers with disabilities. If you don't have these tags, search engines will rank your site lower, so make sure you're including disability-friendly features! Finally, don't forget about the power of keywords. The better your site ranks for terms organically, the higher up your site will be on the SERP.
UX: The structure of your site is important. We've all clicked on a site and been immediately horrified and overwhelmed by a swarm of buttons, colors, links and whatever else the developers have stolen from the depths of design hell. So, don't do that. Make sure your site is intuitive and that users will be able to easily complete the task they go there to do.
Though there are many things that can jump off of a page in terms of bad UX, to really understand if a website has an effective and positive UX we need to understand the purpose of a site and what conversions/information a user should be able to accomplish/find on the site. Then we can start doing some testing and analysis to see if those goals are being accomplished. For example, a website's engagement metrics can be reviewed to see if the data is showing that a user is able to do those things well (i.e. if the core of your business message is on page X and the bounce rate of that page is 85%, or if 65% of users are abandoning their cart halfway through the checkout process, we've obviously got some problems). Additionally, you can conduct a number of UX testing methods like the ones below to see if your site's experience meets a user's expectations.
User Feedback/Surveys – ask your audience if your site is giving them what they want. 
Usability  Testing – ask a set of users to complete a preset list of tasks and monitor how easy it is for them.
Recorded Sessions – use tracking software to review individual sessions to watch how users interact with the site. 
An Important Note: Tracking Tools
As you can see, to gather and analyze data for most technical audits you will need to install and configure Google Analytics (at a minimum) to track the important conversion points, actions and events that are meaningful to your brand's performance. There are dozens of softwares that will help users collect and analyze data, and it's crucial to understand your brand's needs and then find software that will help you accomplish that goal.
Social Media Audits
Those familiar with social media marketing know that it's not as simple as posting on Facebook every once in a while. Social media audits consider the relationship between content and data, sometimes on a very large scale. Here are some things to look out for when doing one.
Tone/Voice: Yes, these guys again. Consistency is key here. Social media messaging should be consistent across platforms, whether you're posting an Instagram story or a TikTok. This means assessing the language in your bios, the "about" page, hashtags, etc. But wait, there's more! Your visual imagery has to go along with your brand as well. Make sure that anything you're putting into the social media world is consistent with what you want your brand to stand for.
Historical Data: To figure out what's working (or not working) with your social media, you're going to have to do some digging into historical data. Which platforms have been working best for your brand? What kind of posts get more impressions and engagements? Programs like Sprout Social can help you compile large amounts of historical social media data on a variety of platforms.
No, You're Not Done Yet
Once you've done your audits and completed your updates, you may think you're finished. Actually, you're not done. Ever. This might sound scary, but improving upon your site or social media is an unending journey. Your brand will evolve, and your marketing tools will need to evolve with it. With your shiny new updates in place, turn to your freshly implemented analytic and tracking tools to see how the needle is moving. Alter them as necessary. A brand is never done growing as long as you help it do so.
Related Posts