How to Enhance Authentic Storytelling with Tourism Ambassadors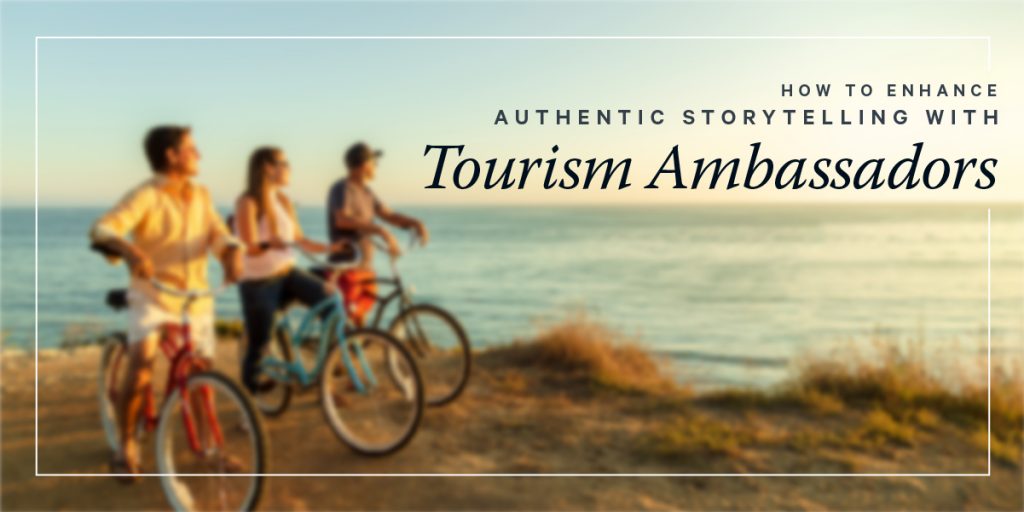 As humans, we have an abundance of choices to make on a daily basis. From the type of milk we pour in our coffee to where to plan our next vacation. We often turn to ambassadors, sometimes without even consciously realizing it, to help us make these decisions. It's in our nature – humans trust other humans.
That's why we avoid restaurants we've never visited based on negative Yelp reviews from strangers. And for the same reason, we shop at small businesses because we saw a trusted friend tag the brand on social media.
When it comes to positioning your destination, ambassadors are your North Star. These are people who will recommend your destination passionately and genuinely. We call these people your "superfans." Just like those cheering in the stands at your local sporting events, we find these ambassadors in our everyday lives. Sans the blow horns and jerseys, these superfans are there to cheer on your destination, just like they would for their home team. They are loyal and honest in presenting your brand and attract others to follow suit.
When you think of tourism ambassadors, you might think of your typical social media influencer, however, these ambassadors could also be your local residents, employees, stakeholders, community leaders, creators, family, friends and so on.
Implementing a tourism ambassador program will not only help build awareness about your destination, but will also create a movement for creators to tell the narrative of your brand authentically, which can result in reaching a much farther and wider audience.
Here are some tips to implement a successful ambassador program:
Cultivate a community of superfans: Understand that your destination is being experienced differently, depending on the person. Let the locals of the area drive the narratives while cultivating ethical storytelling by amplifying their voices.
Find the right people: The right people are not always the most obvious. It's not always about who has the most followers on social media, but rather, who represents what your destination aspires to be. Look for local businesses and leaders within your community to share their stories and impact, and always lead with empathy.
Be inclusive in your approach: Diversify the content creators you work with. As said before, everyone experiences your destination differently, so let those stories shine through with diverse perspectives and fresh eyes. Maintain relationships with creators who have shared content about your destination already. Let them know you care and that they are always welcome back. Seek to create meaningful collaborations and avoid coming off as performative.
Keep your ambassadors engaged: Though your ambassadors are loyal, they have to continue to be engaged and updated with what your destination is doing and how it is changing. Newsletters, Twitter, virtual events, press trips and in person meetups are all key in keeping your ambassadors engaged. From a creative standpoint, allow your creators to take up independent exploration of how they tell the story of your destination. Let them drive the narrative through their eyes, without constructing the message for them. Content will become more credible and trustworthy when ambassadors can express the story through their experience.
When it comes down to making the decision on where to travel, we often turn to people we trust. Ambassadors are a great source of inspiration and representation for your brand. Because after all, we assign a greater value to those we trust, over even the most convincing ad. For that, destinations should allow the audiences of their ambassadors to see the area through their eyes, with less pressure on controlling the message and more room for independent creativity.
Related Posts