Have Cannabis? Will Travel.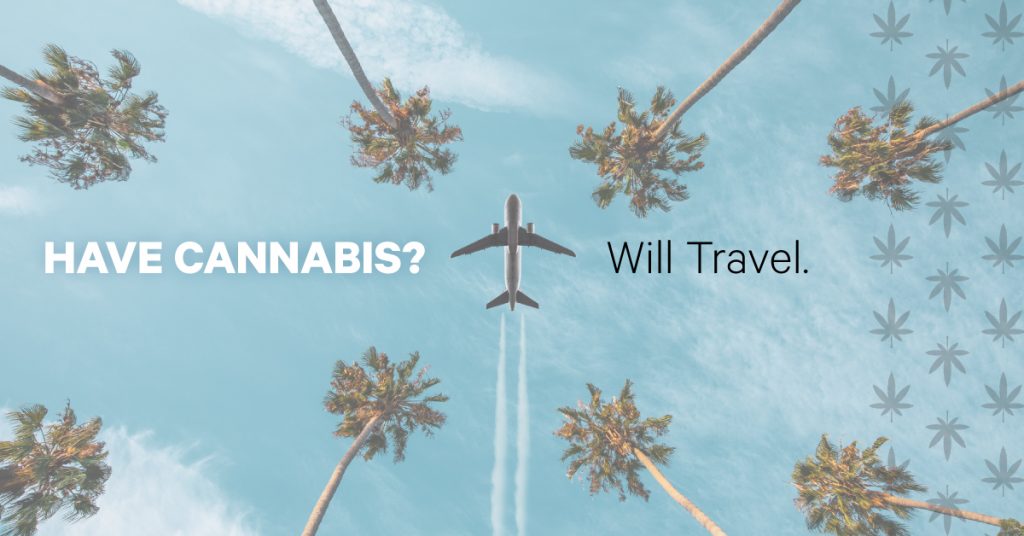 Governor Newsom announced on April 6th that most COVID-19 restrictions may be lifted statewide in California on June 15, assuming vaccine supply is sufficient and hospitalizations remain low. The Governor announced the state will go back to "business as usual" while continuing mask requirements and encouraging all Californians to get vaccinated. The news comes as the state met two vaccine milestones—20 million total vaccines administered to Californians, and 4 million to those in disadvantaged communities. The announcement means that California's travel and tourism, a $144.9 billion industry (normally), will finally be able to reopen fully in just shy of ten weeks.
The question is, are American's willing and ready to travel? Will California feel the surge of American travelers making the most of their summer holidays as they have in years past?
Travel and Tourism studies are showing that almost half of Americans believe their life will be back to "normal" by September 2021. Average perceptions of travel and leisure activities as unsafe has declined 30 percentage points in the last year. About two-thirds of Americans are highly open to travel inspiration right now and the number of Americans actively dreaming about and planning travel reached a 2021 peak at 77.7%.
So, it's very likely that Americans will go exploring this summer, in fact data suggests that July will be the peak month for travel, as one-third of American travelers report at least tentative trip plans for that month and nearly a quarter of Americans say they have trips planned for September and October.
Where you might ask? Well, over 70% of Americans with summer travel plans say they will be traveling out-of-state, no longer will the local drive markets be the key source of visitors, and their destination? The coast. California and Florida absolutely dominate the states Americans say they are heading to this summer.
So, Americans are feeling hopeful, they are planning their summer excursions and California is on the list, and good news, it's almost fully reopened. Here comes the cannabis bit. Here are a few things you should know about cannabis and California first:
Adults interested in cannabis-related experiences on vacation represent an estimated 18% of all American adults and 29% of all active leisure travelers.
6 out of 10 adults interested in cannabis-related experiences on vacation are also interested in visiting California in the next two years and self identify as either 'foodies', 'wine enthusiasts' or 'luxury travelers'.
U.S. cannabis sales has increased 67% in 2020 to $17.9 billion and are expected to increase rapidly in the state of California to $7.2 billion by 2024.
For every $1 consumer/patient spends at cannabis dispensaries, an additional $2.50 of economic value is injected into the economy, most of it at the local level.
Brian Applegarth, the founder of the California Cannabis Tourism Association in conjunction with California Travel Association spoke on how the cannabis industry will be instrumental in California's return. He noted that cannabis enhances destination experiences through effective pairing. This is the art of consuming cannabis to optimally enhance an activity or experiences like restaurants, hotels and attractions.
Think of it, cannabis as a precursor to a fine-dining experience has the ability to stimulate appetite, enhance flavor, texture and elevate the overall dining experience for the patient/consumer. Not only do businesses have happier clientele, but the average spend is typically higher due to an extended length of time and increased average check spend.
Applegarth shared that cannabis will drive the economic recovery of California in a few different ways. First, as of 2020 it is now deemed essential per Governor Newsom and has been relatively recession proof. Moving forward you will likely see further incorporation of cannabis into travel and tourism to diversify and further stabilize and enhance growth of this industry. Positioning of cannabis experiences to garner interest and spark excitement for travel to California. The state will leverage this differentiator to peak the interest of new and curious travelers and grow their target audiences. Lastly, you will likely see an increased use of cannabis as an effects-based product. It will be integrated even more into attractions and experiences that enhance the visitor's experience and drive ancillary revenue for its businesses.
We, along with most of you we're sure, are relieved to find our communities reopening and life returning back to a new normal. We work hard to keep a pulse on our neighboring states and their economic return, and we couldn't help but find this topic super interesting.
https://www.destinationanalysts.com/insights-updates/
https://web.cvent.com/event/bbbed4f8-de43-4120-9196-c1bc293f2a0c/summary
Related Posts