It's Nevada Day! Let's celebrate with Nevada's B Corps.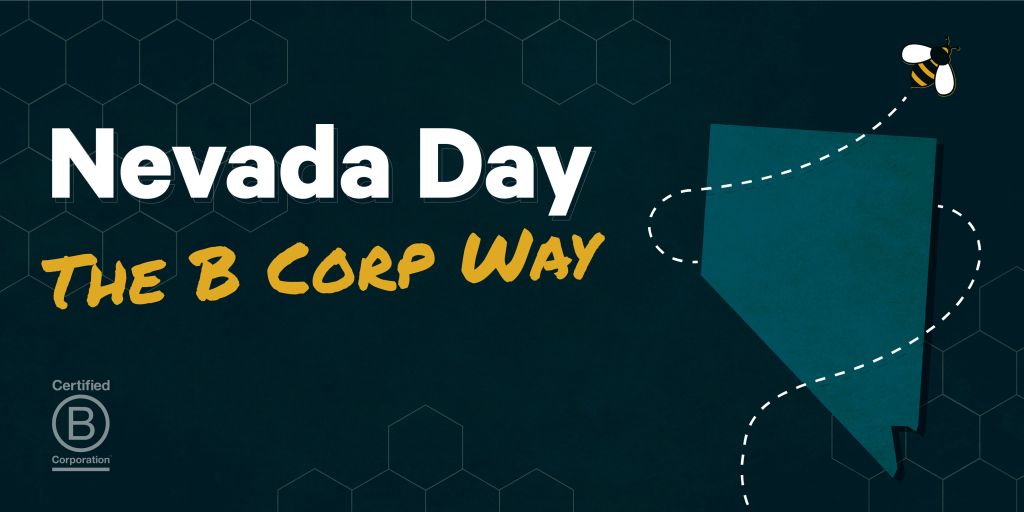 October 27 is Nevada Day and here at TAA we're honoring the day by closing the office and celebrating Nevada's eight Certified B Corporations. Hold up, what is a B Corp? The B Corp designation is only given to businesses who can prove they are meeting the highest standards of performance, accountability, and transparency, especially when it comes to environmental and social responsibility. 
Now you're probably wondering, how does a company become a B Corp? *Raises hand* We can answer that! TAA proved our dedication to Do Good Sh*t as a team, and as a proud Nevada company, by earning our own Certified B Corp designation last year! The process involves showing the nonprofit, B Lab, that your business controls its impact across all stakeholders and operations day after day and year after year. As a B Corp company, TAA is proud to build a better community, a better state and a better world together.
But enough about us, it's Nevada Day, so let's celebrate! We have the honor of being one of EIGHT Nevada businesses that have answered the question "What is a B Corp?" and engrained the answer to that question throughout their companies. With commitments to our environment, our amazing communities (and state!) and, most importantly, our people, these Nevada companies are committed to setting the bar high and keeping it there. We salute you!
First up on our list is Nevada's OG B Corp, Law Office of Lara Pearson & Brand Geek. A B Corp since 2008 and a 1% for the Planet member since earlier this year, this company strives for joyful interactions with all of their clients. With a focus on social entrepreneurship and giving back to the community, Lara Pearson has made it her mission to use her skills as a trademark attorney to "protect brands that are changing the world."
Down in Clark County, MultiGreen Properties was founded in 2019 and is the first mainstream Design-Build/Owner-Operator to be certified as a B Corporation. This Nevada real estate development and operating company is focused on the construction of attainable & sustainable tech-enabled multifamily housing.
In a recent poll, 52% of respondents listed money as the thing that takes the biggest toll on their mental health. Fellow Nevada B Corp and leader in the financial wellness industry, National Financial Educators Council was founded to help people improve their financial outlooks with coaching and educational programs to foster greater financial well-being.
This Nevada B Corp, the second one certified in Nevada, wants to make sure our kitchens are full of sustainably sourced and delicious organic ingredients. From organic farming to your home kitchen, Pure Ground Ingredients is committed to selling food the way nature intended, with a focus on regenerative farms which nourish the communities that grow the ingredients, as well as the lucky end users of their herbs, spices and chilis.
Joining the B Corp ranks in 2021, Steelhead Productions is the only B Corp Certified trade show company in North America! With a focus on happy clients and human to human interaction (instead of focusing on B2B), this company is flipping the script on a notoriously wasteful trade show industry while making sure they support their community and employees along the way. Not to mention they work with One Tree Planted and plant a tree for every trade show display they build.
The Leets Consortium is a leader in the management consulting industry helping companies to develop talent and change company culture for the better. They "walk the walk" with a mission statement that includes supporting and giving back to their community, as well as becoming a Certified B Corp in August of 2022.
Last on this list of amazing Nevada companies is Las Vegas-based Valor CSR who helps provide small to midsize companies with the ability to run their corporate social responsibility programs. Helping companies set up their own corporate foundation and run their philanthropy programs means that not only is Valor CSR a proud B Corp company since 2017 but they are also creating a social impact by helping other businesses do good!
We couldn't be prouder to be one of these innovative and responsible Nevada B Corp Certified companies. Each one is raising the bar and making a difference in their industry and their local communities. But why stop with just eight?
Do you own or work for a Nevada business that wants to answer our Do Good Sh*t rallying cry? Are you still wondering how to become a B Corp? Head over to the B Lab website to see what it takes. We're excited for you to join our small but mighty crew of Nevada B Corps! Happy Nevada Day!
Related Posts