What do you say in moments like these? When bombs and artillery shells rain down on civilians. When tanks roll down the streets of a free, democratic European country. When horrific weapons of war are mobilized in a barbaric and unjustified atrocity.
The invasion of Ukraine has been heart-breaking, senseless, impossible to comprehend. It's a moment from the past forced into our living memory. It's a despicable, depraved and unforgivable act of aggression that we condemn with our entire being.
We feel powerless against forces that seem beyond our control. We are communicators, but words seem useless at times like these.
But we truly believe that the world rising up against this war is the one thing that may turn the tide. We believe that if everyone who has a voice, including Russians, uses it to condemn these violent acts, this movement can be the thing that makes a difference.
So we want to add our voices to the chorus denouncing this conflict.
We whole-heartedly stand with Ukraine and the fiercely courageous Ukrainian people.
We condemn Russian aggression and the tyrannical ambitions of Vladimir Putin.
We commit to doing everything we can to aid the Ukrainian people and bring an end to this conflict.
As some of you know, several of the most talented members of The Abbi Agency team are Ukrainian. These co-workers and friends have enlivened the culture of The Abbi Agency and brought their incredible creativity, technical skills and personality to The Abbi Agency's most successful campaigns and web projects. To see them and their families endure this war firsthand is painful in ways we can't truly express.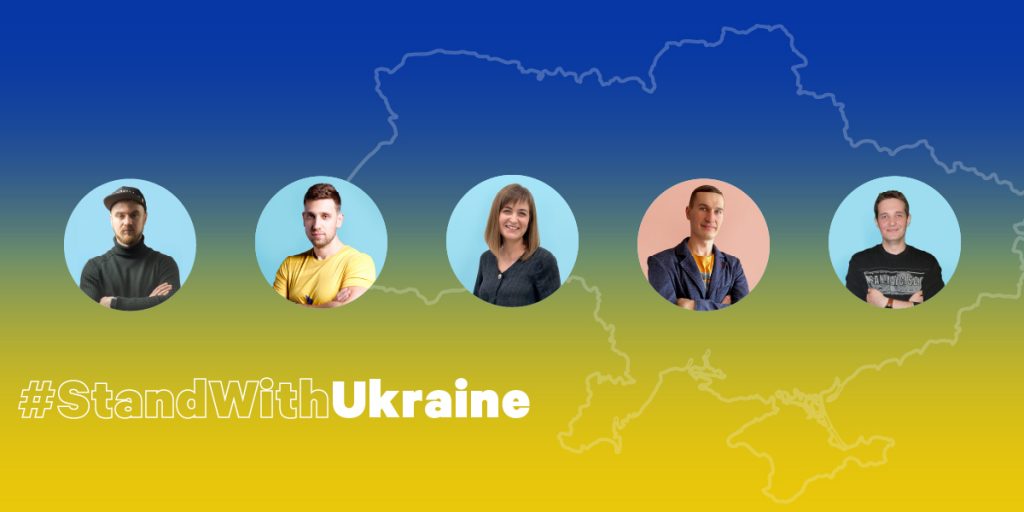 Yegor Monin
Fullstack Developer
Yegor has been working with The Abbi Agency for almost five years. He is a rockstar developer that does it all. As a former bartender, he loves cocktails, especially whiskey and gin-based drinks. He also loves futbol – along with Val his team is Arsenal. He has a beautiful wife, Alina and step-daughter, Polina. Not to mention, his fur-babies are always frequenting our pet Slack channel.
Yevhen Leliuk
Jr. Frontend Developer / QA
Yevhen is one of the newest members of our Digital Experience team and just celebrated his one-year Abbi-versary last month. He started as QA with a keen-eye for the details but has grown his skills to now take on frontend development. He loves sports and being active (especially playing futball and watching his team Roma) as well as his very adorable little chihuahua.
Kate Ponomarenko
Frontend Developer
Kate is truly a badass. Not only is she a female in a male-dominated role, she is exceedingly brilliant at it. She's been on our team for close to three years and is one of the fastest, most detail-oriented frontend developers we've ever seen – she is constantly pushing our whole team to progress. Outside of work, she loves traveling with her husband, Viyacheslav and they have two awesome children, Denis and Vadim.
Vitaliy Moiseiev
UX/UI Designer
Vitaliy has been with us for a little over two years and his work is not only beautiful but innately functional and human-centered. Vitaliy has visited more countries than almost anyone on our team. He loves architecture, traveling and crossfit.
Valerii Mokhiriev
Frontend & Backend Developer
Val is our quiet constant. He started as a frontend developer with The Abbi Agency almost three years ago but has grown to take on backend as well. He's also our in-house email development wiz. When it comes to pets, he's on the agency cat team with his fluffy one. He loves video games, mountain biking and cheering for his futbol team, Arsenal.
To know that these individuals and their families are now fighting for their lives and watching their homes be destroyed is both incomprehensible and heartbreaking.
To our co-workers, to Ukraine, to everyone across the globe standing up for Ukrainian freedom, we commit to standing with you. And we are working now, and always, to do everything we can to support you. These words are just one way we can show our love and our support. Stay tuned for more opportunities to get involved in the coming days, including a fundraiser with The Northern Nevada International Center. Save the Date: March 19, 2022, from 2-4 pm at The Village at Rancharrah.
We stand with our team. We stand with Ukraine.
Related Posts