Exciting and New: The Abbi Agency Expands Web, Content and Digital Teams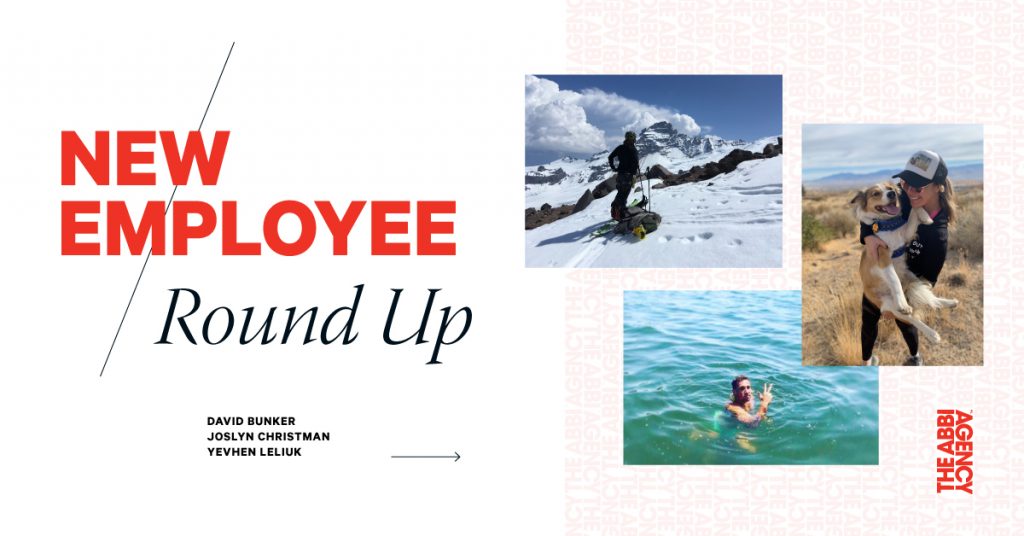 It's been 13 years since our founder, Abbi Whitaker, struck it out on her own to start our scrappy, fierce agency. Since then, we've grown from a single-digit team to an award-winning powerhouse made up of 30+ marketing experts. Today, we're happy to announce that our team's grown even bigger and better with the addition of three new hires.
Strengthening Our Service Offerings
Over the past several years, we've built up our integrated marketing practice to expand beyond the award-winning media relations strategies for which we were initially known. Our agency now boasts major marketing chops in creative, social media, digital marketing, podcasting, web development, content strategy, research and development. That's thanks largely to the careful expansion of our team, which has transformed us into an organization that can secure PR placement, elevate search engine rankings and deliver multichannel branded experiences that move the needle.
Meet Our Newest Team Members
With the addition of these three new hires at our agency, our digital marketing, web development and creative content departments are leveling up once more. Take a moment to get to know these new faces.
If you've been following The Abbi Agency since the beginning, David Bunker's probably familiar to you. He was with us at the beginning, providing his keen eye for creative and his journalistic talent. David oversaw creative development for many of our award winning campaigns, writing organizations like North Lake Tahoe and the Nevada Department of Wildlife to victory for several years before he took a break to focus on family and his duties as associate editor at Tahoe Quarterly.
Lucky for us, David's back in the saddle here at The Abbi Agency, and now he's overseeing all creative content. He'll head up our team of writers, steering client communications to success with his strong editorial eye and penchant for powerful storytelling.
At The Abbi Agency, we develop and deploy a lot of marketing assets. There's both an art and a science to that process, and it takes an incisive, reliable innovator to make that happen. Joslyn Christman brings those qualities and more to The Abbi Agency as she steps in as our social media team's digital content manager. In this role, she'll bring her expertise in graphic design, marketing management and client service to build social outreach campaigns that move the needle in the right direction for our clients.
Prior to joining The Abbi Agency, Joslyn worked as an independent marketing consultant for a variety of companies—mastering her craft by working across several business verticals. Before that, she excelled as the Director of Marketing for United Electrical Services, Inc., where she oversaw the marketing strategy, budget and client relationships—and balanced those responsibilities against mastering subject matter expertise among her peers to best communicate the company vision and offer.
Yevhen Leliuk – Digital QA & Front End Developer
Hailing all the way from Ukraine, Yehven Leliuk blends creativity with technical know-how to build front-end digital experiences for brands. What that means is that, tapping into his wealth of knowledge about tech wizardry, Yehven can transform code into rich, beautiful and user-friendly websites—similar to the one you're looking at right now.
Yevhen developed an interest in programming following the conclusion of his undergraduate education, and credits his quick mastery of the field to his background as an intensively trained semi-professional football (the European kind, which people in the United States call "soccer") and fitness coach. The discipline required of each field paired with his curiosity about the inner workings of the web interfaces with work with each day made him a prodigious digital talent who continues to learn more about web development each day.
David, Joslyn, Yehven—welcome to the team! We're so happy to have you.
If you want to get to know more of The Abbi Agency's top-tier team of experts, we suggest checking out our culture page. We've got quite the cast of characters.
Related Posts