Bold, Big-Hearted, Benevolent, Boundary-Breaking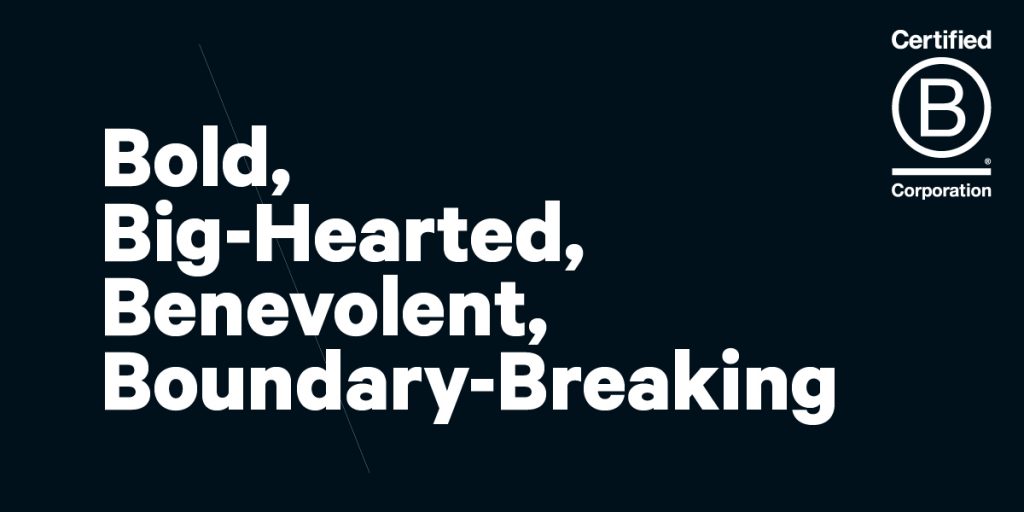 Today is a big day at The Abbi Agency. It's a day of clarity, and the moment when a lot of hard, intentional work begins. If we were cattle ranchers, we'd be saddling up today.
But, of course, we're word and pixel wranglers. So our mouse hands are twitching, our keyboards are clacking. We're ready to get to work on a whole new era of The Abbi Agency.
Today is the day we announce we've officially become a B Corp.
"What?" is a totally fair response.
We're the first integrated marketing agency in Nevada to receive the designation, and one of only a handful of Nevada companies in total to be certified. B Corps are "leaders in the global movement for an inclusive, equitable and regenerative economy." They require a complete reorganization of business priorities and operations, so that people, communities and the planet are priorities, not just profit. In the clearest possible terms, the B Corp vision is to make businesses "a force for good" in the world.
"Why?" you might ask.
That takes us back to the beginning. This is always who we've been. We've just never formalized it, crystallized it, clarified it into a foundational part of our mission. Now it's official and indelible. Those instincts that led us to fight for long-term funding for Northern Nevada schools, launch campaigns to fight childhood cancers, break down barriers to healthcare and affordable insurance — all of those things we were already doing will be multiplied as our B Corp mission gains momentum and we partner with other organizations committed to the same mission.
There will be some changes along the way. This will influence how we approach new business, what suppliers and partners we work with, the amount of energy we devote to our non-profit and pro-bono work. These are all incredibly good things. They mean more world-changing campaigns are in our future, more visionary partners are ahead of us. We're excited for all of these things.
Finally, we want to say thanks. Thanks to every client who has helped us down this path, every partner who has stood alongside us. We're so excited for what is to come.
How Much of a Difference Do B Corps Make?
In 2020, B Corps: Protected 200,000 hectares of land, offset 16 million tons of carbon, saved 225 million liters of water, diverted 207 thousand metric tons of waste.
B Corps outperform ordinary businesses by 15% on natural-resources conservation.
B Corps are 9% more diverse than ordinary businesses.
B Corps are 81% more likely to have transgender-inclusive health care coverage.
B Corps are 48% more likely to have LGBTQ-inclusion trainings than ordinary businesses.
B Corps are 28% more likely to have hosted or organized company service days in the last year and 71% more likely to offer paid time off for community service in comparison to ordinary businesses.
B Corps are 75% more likely to hire workers from chronically underemployed populations than ordinary businesses.
B Corps have hired more than 16,000 workers that traditionally have high barriers to employment.
67% of B Corps screen suppliers based on use of positive social and environmental practices. (210% more likely than an ordinary business).
Related Posts