Unlocking Diversity and Equity Through Data-Driven Public Relations
Breaking down barriers to get more teachers in the classroom
Study.com came to The Abbi Agency (TAA) actively searching for a way to position themselves as a leader in driving diversity and equity in the classroom. With our team, the organization set out to create a social impact program that would not only garner public and private partnerships, but also increase their B2B relationships—a key area of growth for Study.com's business.
Through our research, Study.com and The Abbi Agency identified diversifying and filling the teacher pipeline as the area where a social impact program would have both the highest social impact and the greatest benefits for the company.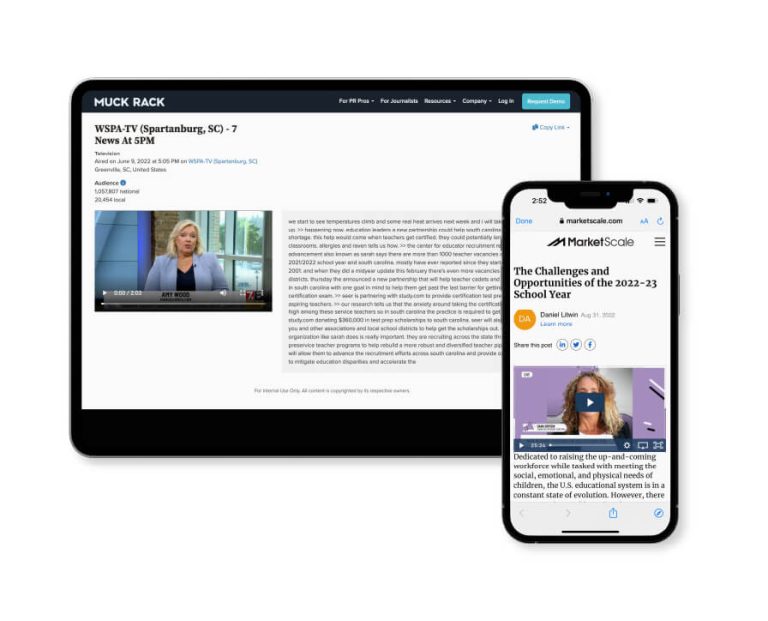 The Big Integrated Idea
Secondary research on the nationwide teacher shortage found that Nevada was facing one of the most critical shortages of teachers in the nation (more than 3,000 vacancies). Nevada is also home to the 5th largest school district in the nation, Clark County School District (CCSD), and also one of the most diverse. According to research through the Nevada Department of Education, while only 78% of students are non-white students of color in Clark County schools, nearly two-thirds of CCSD teachers are white.
Given these findings, The Abbi Agency designed a program that would help aspiring teachers pass the PRAXIS certification exam and get into the classroom faster and with fewer barriers. Pew Research showed that more than half of teachers fail the PRAXIS the first time and a quarter never pass. The statistics for not passing are even higher among people of color (i.e. 30% of individuals identifying as Black never pass). With this barrier to becoming a teacher, Study.com wanted to ensure aspiring educators have the tools they need to become a teacher and knew that offering free licenses to test prep materials would help, as 94% of students who used Study.com's test prep pass the first time (primary research).
Through this program — which The Abbi Agency named "Keys to the Classroom" (KTTC) — Study.com would offer free licenses for test prep materials on its platform, and leverage public and private organizations to help facilitate distribution of the licenses to aspiring teachers, particularly organizations that work with disadvantaged or underrepresented groups such as minorities and people of color.
The Abbi Agency helped strategize a PR approach primarily focused on earned media after collecting research and understanding Study.com's goal of earning a solid reputation among education entities nationwide, while Study.com used press releases and news stories to validate the program and leverage/secure partnerships. We chose a PR-led effort understanding that Study.com is a bootstrapped private company with limited advertising budgets, and wanted the highest ROI for the client with limited resources. The target audience was defined as public entities with a focus on education, such as statewide departments of education and colleges/universities, school districts and school leaders (superintendents, school boards); and private educational organizations such as nonprofits.
After gaining significant attention in Nevada, South Carolina and Mississippi, The Abbi Agency began pitching the story nationally which resulted in pick-up on a national level such as MarketScale, further testifying Study.com as a leader in the education space with efforts to make an impact on underrepresented/marginalized groups, while offering tangible solutions to the teacher shortage.
The outcomes of Keys to the Classroom were effective in bolstering Study.com's reputation among organizations and entities in the education space. All three measurable objectives were exceeded, and in addition to the metrics set at the beginning of the campaign, the program itself incurred positive results in diversifying the teacher pipeline and segueing aspiring teachers into earning their required teaching credentials.
OVEREXCEEDED GOALS
Keys to the Classroom launched in 16 states (goal of 8-10)
23 partnerships (goal of 10)
Over 100 media placements mentioning KTTC (well over the 20% goal)
STUDY.COM TODAY
Committed to donating over $3 million in test prep materials
Launched in 25 states
Enrolled nearly 1000 aspiring teachers in Keys to the Classroom, including 50% who identify as people of color