2023 California Outlook Forum | Key Takeaways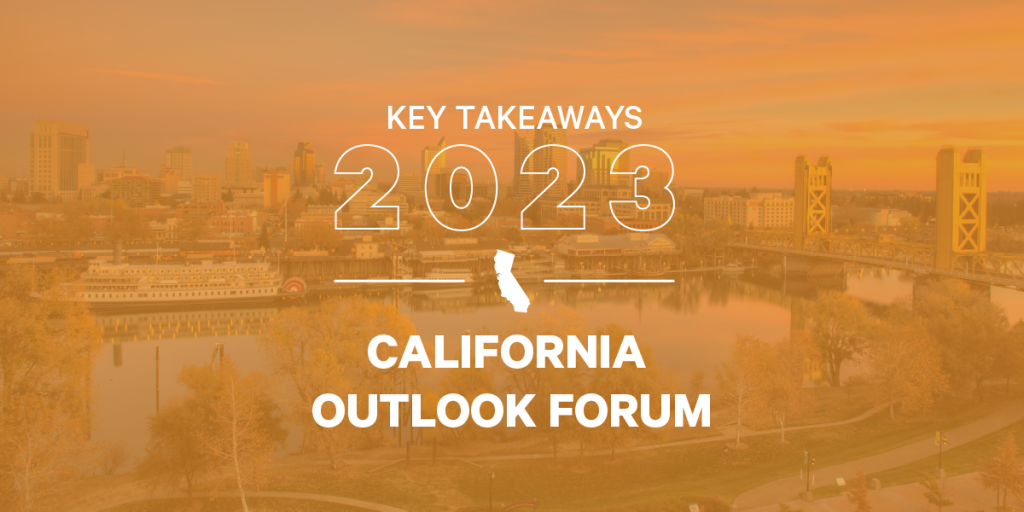 As a global leader in destination marketing, Visit California's annual Outlook Forum brings together leaders in the tourism industry to discuss trends and insights that will shape the future of the travel industry. These trends offer important insights for digital marketing agencies throughout the United States, so destination marketing organizations, hospitality brands, and attractions— take note!
The 2023 California Outlook Forum was filled with important insights and trends, setting an optimistic tone surrounding the full post-pandemic recovery of tourism in California. Didn't get to go this year? Never fear! Here are our four main takeaways from this one-of-a-kind conference.
Technology Disruptors are Here to Stay
Our first takeaway from the event? Technology disruptors are here to stay, and destination marketers should start thinking about how to integrate these new tools into their overarching content marketing strategies. Emerging technologies like ChatGPT and other AI are already set to permanently transform the travel industry by changing the way people access information and plan their trips. For example, travelers can now ask ChatGPT to recommend destinations or activities in a region, or even craft an itinerary for an upcoming trip, bypassing the need to directly engage with the destination marketing organization.
Another disruptor is short-form, vertical videos like TikTok and Instagram Reels, platforms whose popularity and importance to social media marketing strategy continues to climb. Now, the younger generation is relying on TikTok as a search engine, and platforms like Google are rolling out vertical video capabilities to capitalize on this trend.
Finally, Web 3 is on the horizon, and it is set to shake up the destination marketing world by expanding the use of virtual reality (VR), extended reality (XR), and other immersive technologies. These digital experiences will allow tourism brands to give travelers an immersive taste of the experience they could have by visiting the destination in real life.
Older Audiences Should Not Be Left Out
While the travel and tourism conversation for the last several years has focused on engaging younger Millennial and Gen Z segments, Visit California reminds us of the importance of our Gen X and Boomer travelers. These older segments still have the majority of spending power, and Boomers will continue to be the wealthiest generation for the next 7 years. Gen X has the most disposable income of any generation, and intends to travel for decades to come— they present a critical opportunity for destination marketing organizations and the development of their content marketing strategies. As a result, Visit California is reinvesting in the Boomer and Gen X audiences, and encourages destinations throughout the state to follow suit.
Another important audience insight is that family travel continues to be the largest core domestic audience for the state of California, with families making up roughly 82% of the state's domestic visitors. In the last year, families have returned to pre-pandemic levels of traveling in California, and are expanding to include larger groups of multi-generational and extended families. California destinations that are inherently built for family travel will likely see higher visitation in 2023, and all destinations should be considering how to frame their experience in a way that attracts the family segments.
International Travel to California is Back
After a few uncertain years and scaled back air service due to the pandemic, the last year saw the re-emergence of the global traveler to California. In 2022, international airlift recovered by 82%, and experts estimate that it is almost back to pre-pandemic levels. The priorities of the international traveler going to California have shifted somewhat as compared to pre-pandemic, including a focus on worry-free vacations at a slower pace. International travelers are also prioritizing value – ensuring that they get a good deal and maximize the experiences they invest in.
Across the board, opportunities within the international luxury segment have grown. Visit California estimates that about 10% of international travelers to California are luxury travelers, presenting an important opportunity for destination marketers to tap into. Luxury travelers come from every one of California's international target markets, but marketers should especially focus on travelers from India and China, especially as air service to those countries continues to increase.
Native Voices are Taking Center Stage
With Visit California's launch of the Visit Native California initiative, the state is working hard to elevate the voices of the vibrant communities throughout California. Through video-centered storytelling and the launch of the state's upcoming platform, Visit California will continue to focus on these important voices and connect travelers with native experiences.
Now, destinations throughout the state of California should take the time to learn more about the tribal ties in each of their communities. Sherry Rupert, CEO of the American Indian Alaska Native Tourism Association (AIANTA), encourages destinations to thoughtfully engage with their local native communities with a few key steps. First, they should start with research to learn more about their local tribes, then reach out to AIANTA to ask questions and learn how to best connect with local tribal leaders. They should also be careful to ask "how do we thoughtfully represent your tribe in the realm of tourism?" In all efforts surrounding the Visit Native California initiative, destinations must thoughtfully focus on elevating the voices of native leaders, connecting their stories and messages with incoming travelers.
Related Posts