Hope is the Thing With Neon Lights- LVIMA: Best of the West 2022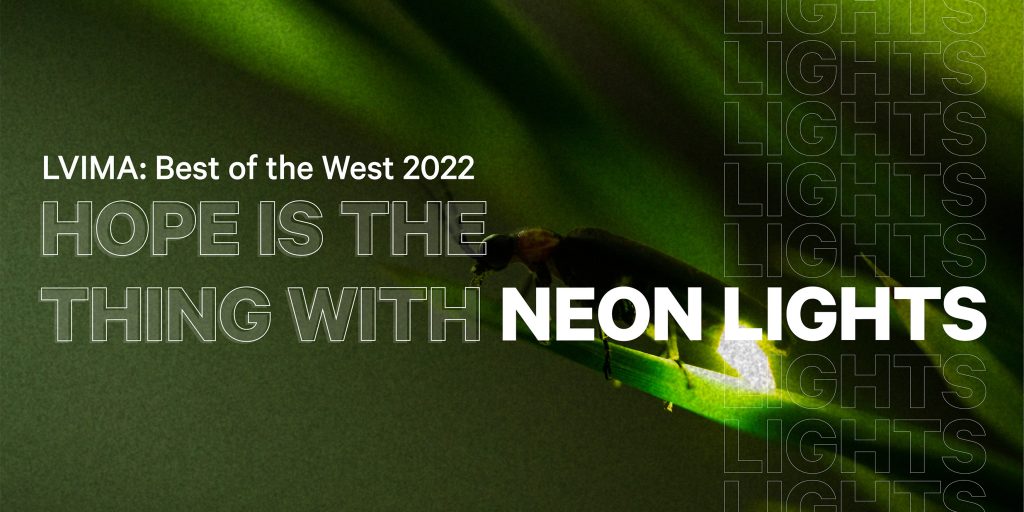 Imagine stumbling down a long dark tunnel and around each bend the glow of a distant light grows brighter and brighter. It feels like approaching the summit of a mountain only to discover that the "summit" is merely a spot with slightly less oxygen.
We've all spent a couple years in this tunnel. Quarantines, lockdowns, life-as-we-knew-it turned overnight into a constricted new world we had to learn to navigate anew. Marketers have been in the tunnel alongside everyone else, traveling up ahead, performing research, and reporting back so you know how to make the best decisions about where to go next (and what to buy along the way). We have worked hard to be the lightning bugs of this tunnel, guiding everyone along the path, lighting the way, and maybe even creating something you can't help but look at.
We are all still making our way out of that tunnel – everyone in their own way. Fortunately, April brought the return of Best of the West, inviting members of the Las Vegas Innovation Marketing Association (LVIMA) to unite virtually and hear from some of the area's greatest minds in advertising and marketing.
If marketers are the lightning bugs of this new normal, Best of the West presenters were the brightest leading lights of the last few years — marketing minds that thought sharper, deeper and more creatively about what marketing means in these moments.
The Abbi Agency team turned out in force to learn from these presenters, particularly members of our growing eight-member Las Vegas team.
After all, it is this group of lightning bugs that has been lighting the way back to 'normalcy' for Las Vegas as it continues to blaze new trails in entertainment, tourism & hospitality. As Las Vegas has rallied one of the most astounding comebacks in global tourism, there is a lot to learn from their brightest minds and apply to destinations across the globe.
Coming out of the event, we are happy to report that you should take some time to…
'Reflect.'
'It's been a hell of a year.'
What do you do when that expression no longer applies because, 'It's been a hell of years,' just doesn't have the same ring? According to Rishad Tobaccowala, author of Restoring the Soul of Business: Staying Human in the Age of Data, you take that time to reflect. He opened the session with an inspirational discussion around taking this time in life to listen and learn, maintaining focus on the people because, at the end of the day, marketing is about people.
This sentiment was echoed shortly after by Kate Wik, CMO of the Las Vegas Convention and Visitors Authority, and Jeremy Aguero of The Las Vegas Raiders. The two shared a meaningful discussion about the fanbase that Las Vegas sports marketing now reaches overall, which seems to be growing by the minute with new teams popping up like delightful lavender seedlings in a desert garden …you picked up a bit of gardening over the last two years, too – admit it.
If you haven't noticed, Vegas, once defined by casinos and shows, is now a sports town. It's an incredibly meaningful addition and expansion of what Las Vegas means as a tourism town. World-class football and hockey mix with a variety of minor league sports, bringing in new visitors and giving loyal Las Vegas travelers one more reason to return.
In focusing on that community of people, marketing becomes, as it should be, much more personal – both in messaging and intent. It drives marketers to take a confident, proactive approach to leading the way out of the tunnel. They take more educated risks, they make preparations when they can and adjustments when they can't, they become even more proactive and take things to heart — all for people, because all they want is for you to…
'Be Prepared.'
Similar to the ever-evolving ecosystem that is The Pride Lands, marketing is filled with lots of changes — and yes some of these changes can be just as scary as hyenas chasing you around the carcass of an elephant. Just ask your Social Media Manager after a weekend-long takeover during which their cell phone service dropped multiple times at the semi-remote location due to a neighboring Pokemon GO gathering stealing all the bandwidth (true story).
The point here is that there have been, are currently, and will be big and scary changes. Deal with it and deal with it kindly. A segment of the event led by Richy Glassberg, co-founder and CEO of SafeGuard Privacy, discussed the future of privacy. The Abbi Agency is already pivoting as privacy changes take hold, urging clients to gather and employ first-party data and preparing for a cookie-less future and a dramatic decrease in the availability of third-party data.
Privacy protection is certainly top-of-mind for everyone and marketers are focused on being as prepared as they can be — doing your research, sharing it with others, asking questions, answering questions, lighting the way, and maybe even…
'Getting Excited.'
Professional sports teams seem to be raining from the sky and, similar to how the Raiders have added new life to the city at Allegiant Stadium, they will continue driving growth and shaping evolution in all corners of the valley.
Marketers, of course, are leading these discussions, driving new energy into the economic and entertainment initiatives roaring back into the lives of Las Vegas residents and visitors who have been waiting patiently for this new day to come.
While reinstating some excitement in your life, it is important (possibly more now than ever) to also maintain balance in all aspects of your life. Nilesh Ashra is the host of the Unbalanced podcast. He graced the audience with a truly engaging discussion on building independent but collaborative work together. I don't say 'engaging' lightly. This is a direct quote from a colleague on Slack while Nilesh was presenting:
"This guy is getting my juices flowing (with what I can keep up with)" -Anonymous (by request)
Kim Lewis, SVP, West Coast & Midwest Sales, BET, helped wrap up the afternoon with a discussion on the level of opportunity present in the area for television and film production alongside Frank Sherma, Chairman & CEO of the Academy of Television Arts and Sciences. With so much in motion to both bring back the old and create the new in Las Vegas, it only adds to the number of booming industries investing in Clark County and Nevada as a whole.
If you are excited enough to have made it this far out of the tunnel with me, you would likely enjoy the quick-but-meaty read that is Weekend Language, one of the books Nilesh was kind enough to recommend to all in attendance. Authors Andy Craig and Dave Yewman elaborate on the importance of storytelling in presenting. There is even a section in Chapter 2 that suggests beginning a presentation with the word "Imagine". Imagine that!
Related Posts