​​Striking Gold: Mid-Sized Agency of Year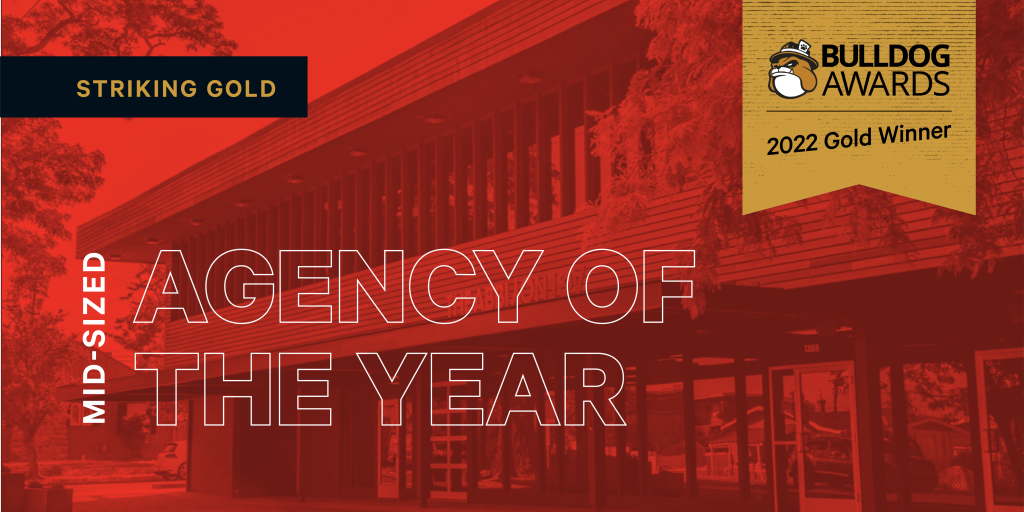 Bulldog PR names The Abbi Agency the Mid-Sized Agency of the Year
At times we've been guilty of not stopping to celebrate. Of polishing pitches, innovating new performance PR practices, leveraging emerging tech platforms — and then failing to take a step back to appreciate the staggering amount of work that we deliver to our amazing clients.
Well, today we're changing that. We've been recognized as the Mid-Sized Agency of the Year on a national stage in the Bulldog PR Awards. It's not every day this happens. And this is as much, or more, a recognition of our incredible clients — world-class destinations, world-changing health initiatives, world-leading technology — as it is about the talented team that drives the incredible results for each and every campaign.
But like an awards show where they hand you the microphone for a celebratory speech, we have a few people to thank for this incredible recognition. Bear with us. We're having a moment.
A tight, talented, tireless team
Our PR team is second to none. This isn't bragging. It's just an honest assessment of some of the brightest minds, most tactical thinkers and strategic leaders that a company could ever ask for.
We've got destination gurus, tech geniuses, insurance experts, SEO wizards, video PR pros — you name it, we've been lucky enough to attract that top talent like a magnet.
There's a lot of heart in this team. But it's not just tenacity and talent. We've got some big brains forging a new breed of public relations for the digital age. That's one of the ways that The Abbi Agency has always been different. We're not practicing the PR of five years ago, or even five minutes ago. We're deep into the SEO-driven, social media-generated, digital PR of the future. You don't nail a national award without that level of future-proofing and vision. And that's because of the tireless, irrepressible PR power players on our team.
The company we keep
The Yosemite Conservancy, Carmel-by-the-Sea, Morro Bay, Mill District, Nevada Health Link, Employers, Google, Study.com. As an agency you really could not ask for more. Clients large and small make The Abbi Agency what it is. Brilliant CMOs, visionary boards, powerful thought leaders — we get to partner with all of them all of the time. We are made by the partnerships we have made at the pinnacle of destination marketing, technology, state government, education and many other industries.
Successful PR campaigns are a melding of minds. We bring our brightest PR strategy, creativity and hard work to the table. And our clients bring just as much — their own vision, stories and talent. It's an alchemy of brilliance that leads to nation-wide coverage, strategic outcomes and the changing of hearts and minds. So thank you to each and every client who makes our agency what it is.
Onward and upward
We're just getting started. Mid-Sized Agency of the Year is a tremendous honor. But we're as intoxicated as ever by the hit of a perfect national placement, the feeling you get when a strategy comes to life and transforms a growing business, the exhilaration of seeing the most Nevadans in state history sign up for insurance through Nevada Health Link. We love the awards. But we live for the real-world results. And maybe that's the point. Maybe that's why Bulldog PR, after looking through piles of applications from agencies across the country, chose The Abbi Agency as Mid-Sized Agency of the Year. We couldn't be prouder. And we couldn't be more inspired to keep changing the PR game each and every day.
Related Posts